Today I'll show you the air rifle Airmax SR1250!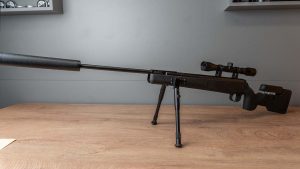 Some of my viewers have been concerned lately that I would only be testing high-priced air rifles and scopes. To reassure them, I have a low-priced set for you today.
It's not always easy for me to create a balanced content plan. I don't always get the test weapons in the time to offer you enough variety. I hope that all the readers and viewers who choose their air rifles according to the price, don't immediately throw in the towel, if there are two or three posts in a row with products that don't interest them. A reader had emailed me and asked for deletion of his notifications because I had only shown more expensive products. I thought that was really disappointing for me and my team. After all, we are committed to provide exciting posts and videos for each of you.
Technical specifications of Airmax SR1250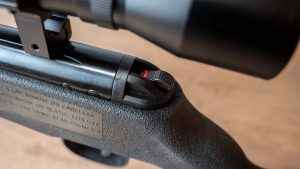 Airmax SR1250 is a spring-piston / break-barrel air rifle with less than 7.5 joules. It comes with a 4×32 scope, a scope mount, and a bipod that can be attached to the Picatinny rails on the side.
A silencer is also included.
The air rifle has a synthetic stock, the cheek piece of which is adjustable in height for comfortable shooting. This allows you to adjust the rifle to your individual requirements based on the mounting height of the scope.
Visually, the rifle is based on a sniper rifle and should therefore appeal to all garden snipers and attic shooters. Due to the absence of open sights such as rear and front sights, the air rifle can only be shot with a scope.
Shooting with Airmax SR1250
When you hold the Airmax SR1250, you immediately notice that the barrel is very long when the silencer is attached. I have long arms, so it works for me. However, if you're physically built a little smaller, you won't be able to reach for the silencer when you're cocking, you'll have to go for the barrel instead. However, the actual cocking process then is easy to do. It can be done with virtually no effort.
Once the pellet has been loaded into the barrel, the only thing left to do is to deactivate the automatic safety. It can be comfortably reached by both left- and right-handed users with the thumb. All you have to do is press it down.
Once you have your finger on the trigger, you immediately notice how grippy the nubbed trigger blade is.
The trigger weight is 3.74 lbs. (1700 grams). Unfortunately, the trigger is creeping. Meaning the shot doesn't break immediately. You have to pull the trigger a little more before the shot breaks.
When I have triggers like that, I've gotten into the habit of always pulling the trigger fairly quickly. Thus, a decent precision can be achieved despite the flaw.
My conclusion of Airmax SR1250
A sharp rim here and there as well as the unusually long combination of barrel and silencer result in some reductions in the handling category. The stock's adjustability, on the other hand, ups the rifle in this category.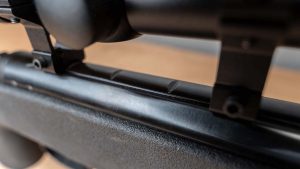 SR1250 is almost entirely made of plastic, which is reflected in the "material and workmanship" rating.
On the other hand, the SR1250 shines with a large scope of delivery and offers practically complete equipment for everyone. The plinkers among you will be very pleased.
If you buy the set and want to upgrade it at some point, I suggest buying a scope and mount first.
I hope you enjoyed my post, and the video entertains you.
In any case, thank you again for taking the time to read my post.
Have a nice week!
Best wishes!
Yours, Andi
Interesting links:
If you want to compare Airmax SR1250 to other air rifles I've tested, check out the site HERE.
Do you already know my international YouTube channel? HERE you will find videos of more powerful air rifles in English.