BO Hitman is an air pistol that can be shot as a pistol or with a carbine stock. I have taken a closer look at this interesting model and made this review for you today. This isn't the first gun I've tested from BO Manufacture, though. I have already tested BO Pendleton and BO Quantico.
I'm eager to know how you like today's test gun and what you think of Hitman.
The design of BO Hitman
The system of Hitman is made of metal and is nicely dark burnished. Its grip and carbine stock are made of a high-quality polymer. Upon examining them, I didn't notice any workmanship defects or sharp edges.
The pistol is designed so that both left and right-handed people can comfortably shoot it. The safety is also on both sides and thus conveniently accessible for everyone. It's a manual safety that doesn't need to be deactivated before each shot.
You can aim at the target via the fiber optic rear and front sight, even in low light conditions. Anyone who wants even faster and easier target acquisition can attach a scope or reflex sight to the Picatinny rail.
Since I'm not the best pistol shooter, but wanted to know how accurate Hitman is, I mounted a Hawke 3 MOA reflex sight for easier aiming at the target. It features a brightness-adjustable red dot.
The system of BO Hitman
Is it just me or do you guys notice this too? In recent months, a trend has developed in Germany toward the pistol carbine.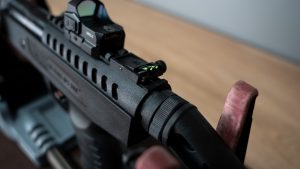 Have I always overlooked or ignored these pistol models the last few years or do various manufacturers now really cater to the high demand for carbines?
I'm not quite sure about that. Whenever you are particularly interested in a subject, you suddenly notice all kinds of things connected with it everywhere you look. For example, when you become a father, you see pregnant women everywhere.
I know that's a weird comparison, but I don't have a better one right now.
Anyway. Today I have for you an air pistol that can be shot with a carbine stock but doesn't have to be. I think this is a great option for those who are undecided whether to shoot with or without a carbine stock, or who simply want a change of pace in their everyday shooting.
BO Hitman is a spring-piston pistol with a 11.8" (30cm) rifled barrel.
With the carbine stock in place, the pistol can be held nicely and steadily. This makes precise shooting much easier for the shooter.
Shooting with the BO Hitman air pistol
The handling of the pistol is quite good. It's light and compact, even with a carbine stock. Even if you don't have a lot of room at the shooting stand, the pistol is easy and comfortable to operate.
You don't need a lot of strength to cock it. You can grip the pistol at the front of the barrel which makes cocking easy. The AirGhandi's Finest round head pellets I used in the shooting test fit nice and tight in the barrel and won't fall out.
I measured 5.8 joules which is pretty high for a pistol. This makes BO Hitman one of the most powerful spring-piston pistols I have tested to date. In my video, you can see for yourself that not only the power, but also the precision is good.
The noise level, which I measured at 87 dB, is also normal for a spring-piston air pistol and not out of the ordinary.
The trigger test showed a trigger weight of 6.6 lbs. (3000 grams). Of course, the pistol is not on the level of a match pistol, but I don't think anyone expected that at the really low price of 119 euros.
However, you can have a lot of fun plinking with the setup I shot.
My conclusion
For 119 euros you get a lot! A pistol that can be shot both with and without a carbine stock. Hitman can be comfortably cocked without a lot of strength.
I also really like the quite high power for an air pistol. So not only targets up to 10y (10m) can be easily shot at, but even longer distances are also no problem.
Especially the plinkers among you should really take a closer look at this pistol. I definitely think it will find a lot of fans in our community.
How do you like BO Hitman?
Have you ever shot a pistol with a carbine stock or are you more of a classic pistol shooter?
I hope you enjoyed my post and check back with me again next week.
You can order BO Hitman HERE from my partner www.action-shop24.de.
Thank you for your time.
Best wishes!
Yours, Andi