Review of BO Pendleton by AirGhandi!
I have seen the quite military looking air rifle in some online shops. I was curious whether it just looks good or if you can actually get good shooting results with it. So, I ordered it and got to the bottom of the question.
Design of BO Pendleton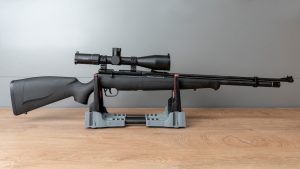 Okay, the air rifle from Black Ops is really a matter of taste. Fans of the classic wooden stock will probably skip this review. The whole look is more reminiscent of a military firearm than an air rifle. However, since tastes differ, I'm sure BO Pendleton will find a lot of fans. When equipped with a scope and a bipod, it really makes a great impression.
Not only a scope or a bipod can be attached to the rifle. Thanks to a total of five Picatinny rails, you also have the option of attaching two accessories near the barrel. You might want to add a flashlight dummy or maybe a laser pointer dummy. Please do not mount any functioning pointers or lights. This is forbidden in Germany and could cause real trouble. If you live outside of Germany, you can check your current weapons law to see what the legal situation is in your country. Fact is, with a few add-on parts, BO Pendleton looks even more realistic.
The length of the tactical buttstock is adjustable in five settings. This gives shorter or taller shooters the opportunity to find their perfect setting. It can be easily adjusted by pressing the small lever on the buttstock. Thus, the total length of the air rifle is between 40.9" (104 cm) and 44.4" (113 cm).
The scope of delivery also includes three different sets of grips. Therefore, you can customize the grip to suit your individual taste.
Technical specifications of BO Pendleton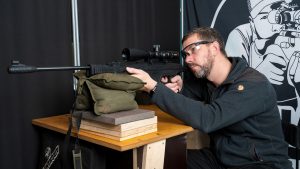 BO Pendleton is a classic break-barrel air rifle. So, you have to cock the rifle. Then, the pellet can easily be inserted, and the barrel can be folded shut again.
As soon as the manual safety is deactivated, the shot can be fired with the non-adjustable trigger. A moderate recoil gives the shooter a clear feedback when the shot breaks.
Aiming is possible either via rear and front sight or via an optionally mounted scope. When shooting via the open sights, you have a rear sight and a front sight with high-contrast fiber optics available. However, I had quite a hard time looking through the open sights during the test. In my opinion, they are slightly too low. Since there is no adjustable cheek piece that solves this problem, I think a scope is absolutely necessary.
Of course, I did a trigger test, a chrony test and a shooting test for you in the video.
My conclusion of BO Pendleton
Especially with a bipod and a scope, the air rifle looks really fancy! If you like this look, you can get a cool air rifle for little money.
I was really pleased with the precision and performance.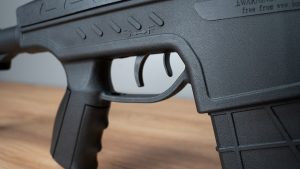 A few sharp edges here or there bother me slightly in terms of haptics, but it's not the end of the world. If you expect more quality, you simply have to invest a few euros more. However, I'm sure that this aspect will bother only a few fans of BO Pendleton.
Now, thank you very much for reading!
I'm looking forward to your feedback. Do you like BO Pendleton? How do you rate the shot result?
Have a great week!
Best wishes!
Yours, Andi
Interesting links:
You are more into classic air rifles? Then check out which ones I've already tested.
A small drop of oil and BO Pendleton is perfectly lubricated!
Before you put the rifle in your gun cabinet for a longer period of time, you can protect the metal parts from rusting. To do this, simply apply some corrosion protection.
Do you already know my international YouTube channel? HERE you will find videos of more powerful air rifles in English.