Testing Diana Airbug!
Attention, dear plinkers! Today I have something really cool for you. I'll show you a CO2 pistol to have a whole lot of fun with. But for now, let's take it one step at a time.
Technical specifications of Diana Airbug
Powered by a 12-g CO2 cartridge, it can be used with the 9-round drum magazine or in single-shot mode. The drum magazine can also be found in a similar form in Diana Bandit and Diana Stormrider. Once you've inserted the pellets a few times, you'll get used to it. Personally, I'm a fan of the single-shot insert. It automatically pulls itself into the correct position in the gun thanks to a magnet.
The grip is ambidextrous. So, it's for left- and right-handed shooters. Well, left-handed shooters will have a hard time with the bolt handle. It's on the left side and not reversible. With a little practice, however, it can also be operated by reaching over with the right hand.
Inserting a CO2 cartridge is simple and comfortable. To do this, twist off the cap at the front end of the chamber. If it's too hard to open, you can unscrew the small pin at the end and use it as a lever. Once you have inserted the 12-g CO2 cartridge, you can screw the cap back on and, if necessary, tighten it again with the pin. It's a very well designed and practical system.
Shooting with Diana Airbug
You can shoot the gun without a recoil. So, there is no blowback. This is extremely beneficial for the precision and makes it easy to learn how to shoot.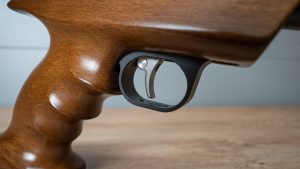 The trigger is great! It has a Diana Improved Trigger which is adjustable. If you turn the screw, the pre-travel and trigger weight will be reduced. Of course, I also tested the trigger for the video.
If you take a break from shooting, you can use the manual safety to secure the weapon. It has to be deactivated again before shooting the next time. Manual safety means you don't have to activate and deactivate it before every shot. That's pretty handy when you shoot for a longer time.
To hit the target, you can either look through the adjustable micrometer sights or attach a RedDot to the 11mm prism rail. In order to mount a micro reflex sight, the rear sight can be removed.
My conclusion on Diana Airbug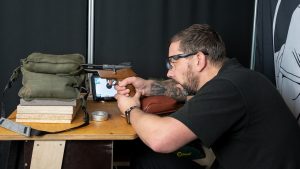 All plinkers and shooters who shoot just for fun are getting a recommendation from me today. If you want to punch a few cans now and then or shoot at your range, then Diana Airbug is a great pistol for that.
The handling is great, and the grip feels nice in the hand. The possibility to open and close the cap of the CO2 chamber with a lever pin is really great.
Diana Airbug is delivered in a practical weapon pouch which you can even lock properly with an optional lock.
I hope you enjoyed my post and video.
I'm looking forward to your feedback!
Best wishes!
Yours, Andi
Interesting links:
HERE you can read about my incredible high-quality gun care products!
Do you already know my international YouTube channel? HERE you will find videos of more powerful air rifles in English.