Diana p-five for 69 euros? Can this be any good?
I have to admit in all honesty, that was the first question I asked myself when I took the pistol out of the box. "Optically, it actually looks pretty good." I muttered to myself… "Now let's see what the gun has to offer".
The preparation for the review
Before I test an air pistol or air rifle, I always give the test object a cleaning first. I use wicks that I pull through the barrel. Especially with cheaper air pistols or rifles, the weapons are most definitely not cleaned at the end of the production process. This was the case. There was quite a bit of oil and goo, which I couldn't define, coming out of the barrel.
Then I grabbed a tin of AirGhandi's Training Master. These will be the pellets with which I will test the pistol today!
Shooting with Diana p-five
First, I disable the manual safety. It is located directly above the trigger blade and can be either activated or deactivated. It isn't necessary to deactivate it before each shot.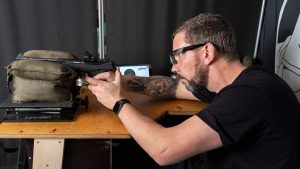 I took my first shots using the mounted rear and front sights. That's when it showed again. I'm just not good at pistol shooting via open sights. So, I grabbed a reflex sight which made it much better right away. The advantage of the reflex sight is: once you have set it, you only have to focus on the red dot in the display. If it aims exactly on the target, the air pistol hits exactly there.
And from then on, Diana p-five proved what it was capable of. The results were getting better and better!
Ok, the trigger is a bit stiff. I measured a trigger weight of 4.4 lbs. (2000 grams). That's a lot. However, the fact that there is a clear trigger pull and that the trigger isn't creeping makes the p-five's shooting behavior very predictable.
The recoil is low! This means that when the shot is fired, only a slight recoil arrives at the shooter's hand.
You can take a closer look at my shooting result in the video below.
What else did I notice about p-five?
The complete gun is made of plastic except for the system. I can't find a sharp edge or anything like that. Only when breaking the barrel open you have to be careful not to hurt yourself on the rather sharp front sight. However, after doing it a few times, you get the hang of it.
The pistol fits comfortably in the hand. For a pistol, it's quiet lightweight.
I would have liked to make one small aesthetic correction: The used screws should all be of the same dimension or cross recess. However, I see that only as a minor flaw.
My conclusion of Diana p-five
For 69 euros you get a whole lot of shooting fun here!
Anyone who hasn't yet ventured into air pistol shooting and also doesn't want to spend a lot of money can certainly purchase it without hesitation! I myself have a very hard time shooting via front and rear sights, but if that works for you, then you don't need a RedDot or reflex sight.
The p-five isn't just for plinking cans. You can make your first steps in pistol shooting here.
AirGhandi's Training Master pellets performed very well at the distance of 12 yards (11m) today. That's a good and favorable recommendation for our common hobby.
Do you have an air pistol? Or are you solely air rifle shooters?
How do you like Diana p-five?
In any case, I thank you very much for reading!
See you next week!
Yours, Andi