Today I have answers for you to the Edgun Leshiy 2 FAQs and some tips I've been working on lately.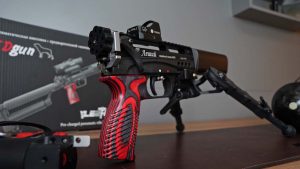 I hope you already had time to check out my review of Edgun Leshiy 2? In this review I show you the Russian air rifle in detail. Although the video is already 36 minutes long, I have still not included all the information. This is the reason for today's post.
A lot of questions, which I answer in this Edgun Leshiy 2 FAQs post, have reached me in the last days and weeks.
I definitely recommend you to watch the video below, because some answers are easier to explain in a video than by text.
Leshiy 2 FAQs video content
Questions answered in the video include:
What is in the scope of delivery when you buy the gut at www.jabolo.de?
How to remove the barrel?
How to change the grip?
How to load the magazine?
How to let the air out of the cylinder?
How do you straighten the buttstock when it is not in alignment?
How to use the Edgun Eazy Fill filling station?
How to lock the gun for transportation?
Additionally, I'll share other tips that I've been working on over the last few weeks and months.
Of course, you can get all the products shown in my store at www.jabolo.de!
Thank you for reading!
Best wishes!
Yours, Andi