Today I'll show you the rifle scope Element Helix 6-24×50. A scope with many features that stand out from the competition. I'll show you in detail what those features are in this post and video.
The different versions of Element Helix
Helix is available in a total of four different versions. The two MRAD models are probably the most interesting for the German market. One is Element Helix 6-24×50 SFP and the other is Element Helix 6-24×50 FFP. The turret adjustment and the reticle of these two versions are divided into centimeter units.
Adjusting one click on the elevation or windage turret then moves the reticle 1 cm per 100 meters. Or calculated for air rifle shooters: 1 mm per 10 m.
With MOA riflescopes, the setting is in inches. One MOA equals 1.074″ at 100 yards. However, those units should be rather foreign to most shooters in German-speaking countries which is why I always recommend MRAD scopes if possible.
The difference between Helix 6-24×50 SFP and Helix 6-24×50 FFP is the focal plane of the reticle.
What does FFP mean?
The reticle of a FFP scope is in the first focal plane. The big advantage here is that the hold points remain the same no matter what magnification you use. The reticle changes size depending on the zoom setting. Personally, I replaced all my private scopes with FFP scopes a year ago. For me, it's a big advantage not having to remember different hold points.
What does SFP mean?
The reticle of a SFP scope is in the second focal plane. The hold points change depending on the magnification setting. Element Helix 6-24×50 SFP is calibrated to 24x magnification. Conveniently, the 6x, 12x and 24x magnifications are highlighted in red. The size of the reticle of SFP scopes remains the same at all magnifications.
Technical highlights of Element Helix 6-24×50
I'm not exaggerating when I say that the Helix rifle scopes offer special features that no other scopes in this price range have to offer. You can tell that Element Optics had shooters involved in the development. They contributed all their experience to the design of the scopes. They know what is needed for benchrest shooting, long range shooting, hunting or air rifle shooting.
Helix features a zero-stop mechanism. This means that you can set the highest point of the trajectory as the zero point. So, there is no need to look at the turret when you want to return to this point. The turret stops automatically. The new distance is then set by turning the turret in the other direction. If you don't want to use this function, you can simply remove the metal ring that is responsible for the stop by loosening the 3 locking screws with the included wrench.
Of course, the turrets can also be zeroed. This can even be done without tools. The cap on the turret can be easily twisted off and the turret housing removed and then replaced. Once you have removed the cap, the next cool feature immediately appears: The turret housing is completely flat. A spirit level can be placed nicely on top of it. It makes it very easy to level the reticle when mounting the scope.
The quality of the materials
While we're on the subject of turrets. Those were not the highlights yet. For me, THE highlight of the turrets is the materials used. The internals are made of stainless steel.
You will notice this when adjusting. A rich and well-sounding click is evidence of a high quality.
Shooting in the fog or in the rain will no longer be a concern for you. Anyone who has ever had a turret rust internally knows exactly what I'm talking about. It takes a while to find a rifle scope with stainless steel internals in this price range.
The center tube has a diameter of 1″ (30mm). The 13 lenses of Helix have a high quality. Each of them has a 5x coating which allows for a nice, bright image.
The reticle
The reticles of the rifle scopes are extremely well thought out. Here, too, you notice the involvement of real professionals. The MRAD reticle was designed by Matt Dubber (AirArmsHuntingSA) and the MOA reticle was designed by Ted Bier (Ted's Holdover). Both are not only loyal to the air rifle hobby, but are also active hunters, benchrest shooters and long-range shooters. In order to be perfectly suitable for all these purposes, the reticles were implemented according to the wishes of these two shooters.
If you have a visual impairment, you can also adjust the eyepiece to your eyes.
The ocular adjustment ring can be operated even with gloves on, just like the zoom ring, the turrets, and the parallax knob. Here, too, the manufacturer has left nothing to chance.
Helix is incredibly robust
The scope is made of 0.07" (2 mm) thick aircraft aluminum. However, I will refrain from hitting anything in my video. You can already see that in other videos. Since it is my own scope, I take good care of it. However, it's reassuring to know that it can take a lot.
All the different rifle calibers can't damage Helix either. The scope was tested in a machine simulating 500 rounds of .50 BMG. It survived this test undamaged.
The quality control of Element Optics works reliably. Each scope is individually examined by one of the experts in Sweden. If it meets the approval of the tester's trained eye, a hand-signed quality control card is attached to the scope. That way, when you get your Helix, you'll know it's been personally inspected.
On the manufacturer's website, Element Optics also advertises a lifetime warranty. Now that's what I call a promise!
The repeatability when adjusting the turrets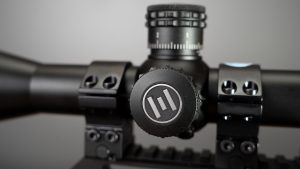 The high-quality materials as well as the incredible diligence in the production are also reflected in the reliability when adjusting the turrets.
We have a maximum deviation of less than 1% here!
How can you measure that?
If you make 100 clicks in one direction, then turn the turret the same number of clicks in the opposite direction, you'll end up one click off the starting point in the worst case. That is outstanding.
Since no one will turn the turret so much in one direction for a shot, you will practically always end up exactly at the starting point.
This is a test and a value that you rarely hear or read about. Unless you are convinced that you are particularly good at it 😉
What do you get for your money?
As standard, each Helix comes with a sunshade, a throw lever, and rubber lens caps.
You probably asked yourselves the whole time what the scopes cost!
Now we get to the real highlight. We are talking about 399 Euros for Helix SFP and just 459 Euros for Helix FFP. That's a really good price.
Where can you buy Element Helix?
I have to say, I'm really proud.
You have the possibility to buy the scopes directly from me!
Currently still by phone, contact form or email, but soon in my own online store. Yes exactly, my own online store.
For the past few months, my team has been working hard on what will keep my content and your entertainment free in the future. We are working on a webshop where we will offer selected products. Products that I have personally tested and am convinced of. We won't carry every article that is available on the market. However, you can be sure that when you put a product in your shopping cart, you will get something of high quality.
Many of you are currently already getting advice from me about our hobby. This will be even easier for you and for me in the future, as we want to have a nice presentation of those articles online.
You know when I approach a subject, it will be a good one 😉 Even if it will take some time until the final store is done, the store will be available in a simplified form soon.
I'll announce soon which articles will be available, how you can access the store, etc.
Until then, you can of course use my personal consultation for questions as before.
My conclusion of Element Helix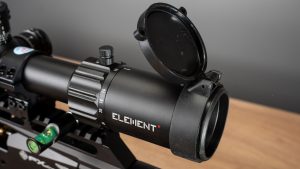 It couldn't be any better, period.
I mounted the scope on my FX Dreamline and have had even more fun with the rifle since.
A few of you have already bought one from me and were able to test it. So far, we are at a 100% satisfaction rate. This says it all.
I consider Helix to be a reliable performer. Everything is well thought-out, functional and the haptic completely convinces me.
Whether it's the adjustment options or the materials, nothing was left to chance here. So far, I haven't noticed any aspects that I don't like.
Of course, you get more lens quality for more money. Why else would there be glasses for thousands of euros? If you are looking for something even better, you can take a closer look at Nexus from this manufacturer. I will show it to you in more detail soon.
Helix is the right choice for every shooter, no matter what discipline, who wants to have their money well spent and who wants a manufacturer who stands by its word and guarantees quality.
Everything you need is included, even the lens caps which are not necessarily standard.
What is your opinion of Element Helix?
What rifle would you like to mount it on?
Thank you for reading.
Best wishes!
Yours, Andi
Important information:
In the future, new posts will always be published on Wednesday evening at 5:00 pm. My wife and son demand their husband/dad back on Sunday. I must comply with this request 😉
So, the next post will be published on June 09, 2021. Then as usual weekly.
Thank you for your understanding!
Interesting links:
HERE is the contact form where you can order the scope. It will be available in my online store soon.
HERE you find the manufacturer's site. There are also a few videos on the setup and the scope itself.
Do you already know my international YouTube channel? HERE you will find videos of more powerful air rifles in English.