Surely you have already seen my review about FX Impact M3 in which I raved about this gun. I had promised you, if there is enough positive feedback, I'll make a video on the shooting range. Your feedback was positive, so I drove 25 miles (40km) to the range to show you the rifle at a greater distance than the 12y (11m) I have at home. In addition to a precision test at 27y (25m), high-speed shooting of various reactive targets was also on the agenda that day.
Shooting test at 27y (25m) with FX Impact M3
When you try to get the maximum precision out of your gun outdoors, the result always depends on many components.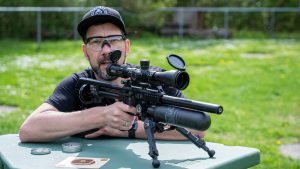 First of all, you have to rely on excellent air rifle pellets. FX air rifles harmonize best with JSB pellets. I would even say "unfortunately" in this case. Because it seems to me that the quality of the Czech manufacturer's round head pellets has deteriorated considerably. I can remember my early days 7, 8 years ago. At that time, I shot JSB Exact 4.52mm exclusively and was absolutely satisfied. Now I have to look at every single pellet very carefully before I shoot it. Especially in larger calibers, which I need for my powerful air rifles, I have tins of which I can directly throw away 10-20% of the pellets. I can hardly imagine that this is the quality standard that every fifth pellet is deformed in spite of intact tins.
It goes without saying that such pellets can hardly be used for a serious shooting test. JSB should take H&N Sport or Qiang Yuan as an example. There, these problems practically don't exist at all.
Further difficulties arise during the shooting test when wind sets in or the surface on which you place your rifle is not 100% steady.
With my table, I had to make a compromise between easy transport and steady stand. If you have a table made of concrete, it would be best. But you can't carry it 😉
Reactive targets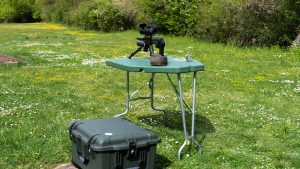 Reactive targets are of course recommended for FX Impact M3. The rifle plays to its strengths, especially when you want to shoot quickly at different targets.
In my opinion, the short cocking lever, which is convenient to reach without letting go of the grip, is one of the biggest highlights of Impact M3.
I set up targets at a distance of 27-32 yards (25-30 meters) with a relatively large hit zone. I didn't want to do any precision shooting that day, I just wanted to let off some steam and enjoy plinking with the gun.
What makes FX Impact M3 so special?
One of the biggest strengths of FX Impact M3 is clearly the large fan base around this gun. There are some manufacturers that build add-on or custom parts for Impact. This allows you to modify your gun according to your personal taste.
In my store I have many products for this gun, which I have imported from the USA for you. This is not the only reason why it is worth visiting www.jabolo.de!
My conclusion
Absolutely fun! I could actually leave the conclusion like that. If you've watched my video, you can understand why I don't really need more than those two words.
I love that Impact is such a compact gun. It's easy to store in the car and take with you to the range. The large compressed air bottle on the gun also means you don't have to worry about refilling it. Unless you plan to spend the entire day at the range.
HERE you'll find the video of my more powerful FX Impact M3 on my English YouTube channel.
I really had fun!
How do you like FX Impact M3?
Thank you for visiting my blog!
Have a nice week!
Best wishes!
Yours, Andi