Huben K1 is here!
About three years ago, I became aware of Huben K1 on YouTube. I soaked up the little information that was available and was extremely eager to see how the air rifle would establish itself on the market. In the past few years, there have been recurring discussions about various problems that the first versions of Huben K1 were said to have. However, the things I heard about the new 2020 model were really promising.
So now it's here! Thanks to GoGun for providing me with a pre-production model of the 2020 version. This model differs only slightly from the one you can order now.
Now, however, let's take it one step at a time.
Technical specifications of Huben K1
I was incredibly excited when I received the parcel. It contained one of the first Huben K1 air rifles that is marked with an F.
That means, GoGun imported the semi-automatic rifle and had it reduced to 5.5 ft lb (7.5 joules). Now, German shooters who have reached the age of 18 can shoot Huben K1 without needing a firearm certificate.
The product description on GoGun says that the rifle's hammerless design eliminates the need to pre-cock before each shot. Up to six shots per second are supposed to be possible this way. I have tested over 100 different air rifles in the last few years, and more than 80 (as of February 2021) have made it into a review on my site. A hammerless, semi-automatic system wasn't one of them yet. Huben K1 is the only air rifle I know that has this feature.
One thing you always have to be aware of: Pay attention to the safety catch!
Having shot many different rifles over the years, I have taken it for granted that the rifles I shoot and test are very safe to use. Many rifles have an automatic safety, and if you don't cock the rifle, it feels safe to use.
With Huben K1, we need to be aware of the danger. The moment the pellets are put in the magazine, the rifle is ready to be shot until the compressed air cylinder is empty. Only the small safety catch stops the trigger from firing. We have to be aware of this at all times.
However, let's take a look at a few other technical facts.
Huben K1 is available in two calibers. In cal .22 (5.5 mm) and cal .25 (6.35 mm). The F version is only available in caliber .22 (5.5 mm). It absolutely makes sense. The pellets in the larger caliber are heavier and therefore slower in order to not exceed 5.5 ft lb (7.5 joules). Anything over 5.5 mm doesn't make sense. If you own a firearm certificate, you can shoot the other version with its 73 ft lb (100 joules). Then, of course, caliber .25 (6.35 mm) is no longer a problem.
Material and design of Huben K1
Huben K1 is a semiautomatic bullpup air rifle. It's a compact rifle.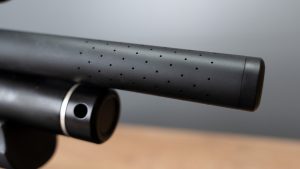 The rifle has a high-quality synthetic stock. The fixed Picatinny rail is, just like its mount, made of metal. I have to admit, the air rifle feels and actually looks much more high-grade than I had previously suspected from the photos I had seen. I was afraid that it would be rather cheap. The workmanship is excellent as well. So far, I haven't noticed a gap or a sharp edge anywhere.
The butt plate is rubberized.
The barrel has an integrated silencer, so the 5.5 ft lb (7.5 joules) version is exceptionally quiet. Huben K1 from 2018 had a Lothar Walter barrel installed. The 2020 version has a Chinese barrel without choke. We will get to the precision later.
The trigger is adjustable. I measured a trigger weight of approx. 500 g.
Its magazine holds a total of 19 pellets. It is integrated in the rifle and cannot be removed. This is extremely important because it has to be positioned accurately, since the pellets are fired directly from the magazine. This means that there can be no tolerances.
The compressed air cylinder is really good. It's a 300-cc cylinder that allows a pressure of up to 350 bar. This allows for several hundred shots with 5.5 ft lb (7.5 joules). To be honest, I didn't count them 🙂
However, I don't have a pump or tank that can withstand that kind of pressure. I hooked the rifle up to my Hill compressor, set it to 300 bar and just let the air flow in.
Shooting Huben K1
Now we come to the topic everyone has been waiting for. I'll tell you a bit about shooting K1.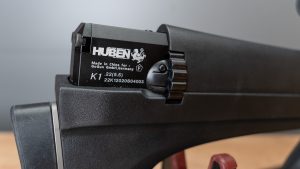 First of all, I loaded 19 .22 cal. (5.5 mm) pellets into the chamber. This is super easy to do. You flip up the small lever that closes the drum, thus releasing it so you can turn it with your fingers. Then, on the right side, you can load two pellets at the same time before you have to turn the magazine. A small plastic flap cut into the side can be pressed down slightly, it ensures that the pellets won't fall out of the magazine. However, this didn't happen with any of the nine types I bought. All of them fit really well in the magazine.
Now we are getting to the important part. The 7.5 joule version of Huben K1 is quite "ammunition-sensitive". I bought and tested all types of pellets that I found at that time; I achieved the best results with H&N Field Target Trophy .22 cal. (5.53 mm). The barrel isn't choked.
With some pellets, I had a circular error probable of 10 cm at 10 meters. It's possible that these pellets would work well with a higher output of Huben K1. Yet, since we are limited to 5.5 ft lb (7.5 joules), they were useless.
However, once you have found the right pellets, you have unlimited fun. You can't imagine how fast you can shoot a can of diabolos. Reloading becomes easier and easier the more frequently you do it. A bit fiddly at first, but you do it with ease after a few hundred shots.
My conclusion
Wow! I need more pellets and I need a gun license. I would love to shoot the rifle at 100 meters with slugs. Because that's actually what it was originally designed for. For long distances and for shooting with slugs.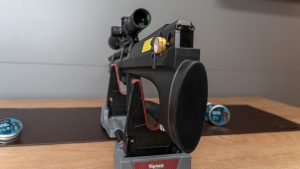 The semi-automatic is absolutely awesome. I wish I had even faster fingers, because Huben's K1 could easily handle an even faster firing sequence.
For me, this is a whole new way of shooting an air rifle.
The workmanship is fantastic, the design of the gun is certainly a matter of taste. Fans of tactical rifles will feel their hearts beat faster, fans of classic rifles have long since stopped reading anyway and moved on to the next post.
I couldn't get the precision of a Steyr, Anschütz, or FX Dreamline out of the 5.5 ft lb (7.5 joules) Huben K1. Maybe I should have tested more pellets. However, I didn't have any more available.
I do know, however, that impressive results can be achieved with slugs at 100 meters if you find the right setup for the rifle with 100 joules. You can experiment a lot with the performance. You have the possibility to adjust the regulator using the small dial at the bottom of the stock. In the version shown here, you can also turn it, but nothing changes.
I hope I didn't overdo it with the text length today. But there was just way too much information that I had gathered over the last few days.
If you have any questions, feel free to leave me a comment here. I hope to be able to answer them.
Now I thank you very much for the time you have taken.
Have a great week!
Best wishes!
Yours, Andi
Interesting links:
Need help choosing a riflescope? Just write me HERE!
Do you already know my international YouTube channel? HERE you will find videos of more powerful air rifles in English.