Today I'll show you Mercury Chili Camo. A so-called "ready to use" set. This means that the set includes everything you need to get started in the air rifle hobby.
The set includes a bipod and a 3-9×32 Optima riflescope to which a scope mount is already attached. You also get 100 targets, a can of TopShot pellets, and a sturdy 14×14 bullet trap box.
Mercury Chili Camo
The Mercury Chili Camo is a spring-piston / break-barrel air rifle. It has a total length of 43.3" (110cm) and a weight of 6.4 lbs. (2900 grams). It's caliber .177 (4.5mm).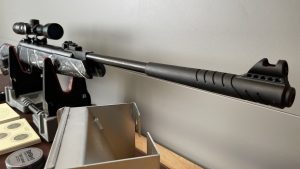 If you give the barrel a light slap, you can pull it down easily. Once you've done this a few times, it's quite easy to do. The large muzzle brake helps a lot. You can grip it firmly and comfortably.
The rifle features a rear sight with fiber optic insert and a fiber optic front sight in a front sight tunnel. If you don't want to shoot with a scope, the high-contrast open sights allow you to aim perfectly at your target. If you want to mount the included scope, you can attach it to the 11mm dovetail rail. This can be done without tools thanks to small screw wheels. If you tighten them nicely, nothing will move despite the rifle's recoil. This is also ensured by the screwed-on stopper to which you should attach the rear mount.
The trigger is adjustable in two stages. It's made of metal and has a trigger weight of approx. 2.2lbs. (1kg). When shooting with Mercury Chili Camo, you should make sure that you always put your finger on the trigger the same way so that you don't move when the shot breaks. To do this, I recommend that you center your finger on the trigger blade with the last phalanx of your index finger.
Mercury Chili can be used by both left- and right-handed users. The cheek piece can be used excellently on both sides, and the automatic safety can also be conveniently unlocked by both left- and right-handed users. The safety activates automatically when the barrel is pushed down.
Shooting with Mercury Chili
When the trigger is released, the rifle's recoil is transmitted to the shoulder. I would rate the recoil as medium to high. When shooting, it is also important that you always hold the rifle the same way. Personally, I use the artillery hold. IN THIS POST, I once explained how to master the recoil of spring-piston air rifles and increase their accuracy.
The included TopShot pellets are excellent to use up to a distance of 10-13y (10-12m). If you want to shoot at longer distances, I recommend switching to round head pellets since flatheads start to spin at a certain distance. Then it becomes incredibly difficult to still achieve precise results.
My conclusion
If you like shooting at cans with your buddies or don't have any competition ambitions, you can buy this set without hesitation. Whether you want to shoot via rear and front sight, with a scope or with a bipod or without, with this set you can get started on your first attempts.
You can get the rifle set at Frankonia. HERE is the link for you.
The bipod and camo look make the air rifle look very tactical.
All you really need is a case for transport, then you can get started.
How do you like the rifle?
What rifle was your first one to start this hobby?
Thank you again very much for your interest and time!
Best wishes!
Yours, Andi