In product descriptions and data sheets of air rifles it often says something about a Minelli stock. But the name is not only known to air rifle shooters.
Who exactly is this company and what else do they produce? I've never asked myself this question until now.
After I got a used English AirArms ProSport with a fantastic stock from a nice shooting colleague, I wanted to know more about the manufacturer of this extraordinary stock.
Interesting facts about Minelli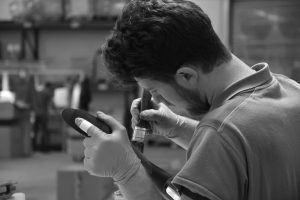 Minelli has been producing stocks for air rifles since 1992. The first stocks was produced in 1970, almost 50 years ago. I have recently been able to admire the outstanding work on a Diana Outlaw, Diana P1000 Evo2 and my AirArms ProSport. Minelli also produces stocks for rifles and hunting rifles.
The Italian woodworking company Minelli, with its headquarters in Zogno, Italy, manufactures its products in four plants. These are in Ambriola di Costa Serina (Italy), Gottolengo (Italy), Tirana (Albania) and Hickory NC (USA).
The first customer in the air rifle sector was Diana, for whom production still continues today.
What other products does Minelli produce?
Of course, Minelli doesn't only produce stocks for rifles and air rifles in its four factories. Other important areas for the company are
tools and brushes
gun stocks and revolver grips
household goods and kitchen appliances
luxurious packaging
toys
axes
Wooden stock or plastic stock?
Many shooters feel the same way about their air rifles as I do. We spend a lot of money; we have to like the rifle we buy. I'm a fan of visually appealing, well-crafted wooden stocks.
I often take my air rifle out just to relax. I look at it and clean or oil the stock. I do not only like the smell of a freshly oiled stock, but I also enjoy the quality, feel and workmanship.
Air rifles with a Minelli stock quickly become showcase pieces that you don't want to take with you on the shooting range for fear of breaking something. But they are not as sensitive as one might assume at first.
Unfortunately, I couldn't find out for which air rifle brands Minelli produces stocks.
Can you help me out? Which manufacturers do you know of that work with Minelli?
And are you a fan of wooden stocks or do you see it more from a practical point of view and prefer to use plastic?
The types of Minelli stocks
There are two types of stocks. Lacquer stocks and oiled stocks. Lacquer stocks are water-repellent and winter-proof. They are also characterized by their scratch resistance. Oiled shafts, on the other hand, require a little more care.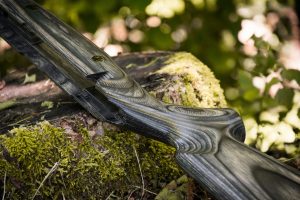 Minelli has managed to reduce the required care to a minimum. The stocks of the last five years are treated with oils that remain unchanged during the entire hunting or competition season. Hunting rifles can be used for more than one season without re-oiling. Wear and tear during the use of the gun have been reduced to a minimum.
When I asked how to take best care of one of the stocks, they gave me the following tip: At the end of the season, you want to rub the stock with a mixture of colorless oil and Vaseline. This mixture enters the pores and restores the appeal of the stock.
The fact that so many air rifle manufacturers rely on Minelli stock is proof of the high quality. I have had only positive experiences and I'm more than satisfied with the workmanship and wood quality. So, the next time you read "Air rifle with Minelli stock" you will know that this is a high-quality model.
If you like my work, support me on tipeee. Thank you
Thanks again for reading!
See you next time.
Best wishes!
Yours, Andi
Interesting links:
Do you already know my international YouTube channel? HERE you will find videos of more powerful air rifles in English.