The shooting ranges are open again, I have my Steyr LG110 HFT Hunting back, and my AirGhandi's Finest pellets are finally available.
It's great that everything can be combined.
Where does this Steyr LG110 HFT Hunting come from?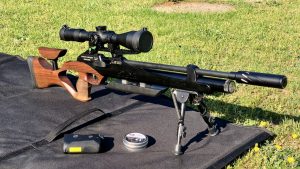 If you add up the air guns I have had for testing or owned in the last 5 years, the total number would be well over 100. I usually don't own the guns for long. I sell them after a few videos so that I can use the money to buy a gun for my next reviews and videos. It was pretty tough on me to sell a few rifles. Not only because of the financial loss, but also because the rifles had won me over for various reasons or were important for me.
This is also the case with the Steyr LG110 HFT Hunting that you will see today. It was the first real match rifle I tested, and more importantly, this is exactly the same rifle that can be seen on the AirGhandi logo. The AirGhandi logo was created by a befriended graphic artist. He used a picture that was taken at a shooting range in my early days. After years of rebuilding, I can now use exactly this shooting range again for future videos.
The air rifle is particularly important to me because I've put thousands of hours into the AirGhandi project over the last 5 years and the rifle represents this project.
AirGhandi's Finest are available now
The best air rifle is of no use without good pellets.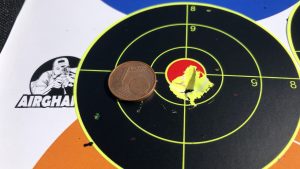 By now, everyone has probably already noticed that I sell domed and flat head pellets with my name on them. I already announced this several weeks ago, now they are finally available (only in Germany).
Nobody is more excited than I am to see how these will perform in your air rifles and air pistols. So far, they have been used by some real pro shooters in their competition rifles. AirGhandi's Finest have performed outstandingly there. Now I'm of course eager to see what my good old Steyr can accomplish with these pellets. That's what I want to find out with you at the shooting range today.
I want to see your results!
In other words: You bought a can of AirGhandi's Finest and tested it with your favorite rifle? Your test is representative, and you took a picture of the results, your rifle and can of pellets? Then send it to: servus@airghandi.de
Please write your first name, the name of the rifle and the shooting distance on the target and send me the photo by email in a resolution of at least 1280 x 720 pixels and preferably in 16:9 format.
Of course, your test should be representative. If you shot blindfolded at a distance of 70m, then the picture will surely not make it onto the page 😉 After all, you should get a realistic impression of what is possible when material and shooter work well together.
But I'm sure you understand that.
Now I wish you lots of fun with my video. Enjoy yourself for a few minutes and watch the first video I made outside this year.
Best wishes
Yours, Andi
Interesting link:
Do you already know my international YouTube channel? HERE you will find videos of more powerful air rifles in English.