Steyr ProX caliber 5.5mm (.22) is now available with 7.5 joules!
After IWA was canceled two years in a row for the well-known reasons, I was back on site in 2022 to get first-hand information about innovations from our industry. Unfortunately, I have to admit that it was very quiet in the Nuremberg exhibition halls this year. While a few years ago practically all air rifle manufacturers presented their new products at IWA, this year it was rather quiet.
I was all the more pleased that Steyr Sport announced some great news for us shooters!
Steyr ProX caliber 5.5mm is now available with 7.5 joules
If you've been looking up extremely high-quality air rifles on the recreational market over the past few years, eventually you've come across Steyr ProX. I've reviewed the one in caliber .177 (4.5mm) a while ago. That was a rifle and video shoot that I can still remember today. A rifle that brings a big smile to a gun tester's face and this smile only disappears when the magazine is empty.
Unfortunately, this happens far too quickly with ProX. Not because the magazine has too little capacity, no! Even in caliber .22 (5.5mm), it holds 10 pellets. The quickly emptying magazines have their reason in the semi-automatic, which also distinguishes Steyr ProX caliber .22 (5.5mm).
I don't know how many times I do this: I focus on the first shot, aim well, then shoot. Then I'm so happy about it that my trigger finger starts twitching like crazy and I simply shoot the other 9 pellets in the direction of the target. I actually believe that more than 75% of the pellets I have shot with my ProX have fallen victim to this very phenomenon.
But I don't feel bad because of it. No, I have to admit, sometimes I just like to do it this way.
The magazine of Steyr ProX caliber 5.5mm
ProX caliber .22 (5.5mm) shoots the pellets directly from the 10-round drum magazine. It is protected by a lockable flap. An advantage of this flap is that shooters who have a beard don't get it caught up in the magazine.
Once you have placed the full magazine in the magazine slot, it is wound anti-clockwise. The spring, which is in the magazine, is then tensioned and thus transports the pellet quickly to the next position. You can imagine that all the components and these processes are incredibly precise. Otherwise, the outstanding precision, which you can see in the video, wouldn't be possible.
Shooting with Steyr ProX caliber 5.5mm
In fact, I'm inclined to write just a single word under this heading: "Outstanding." I don't even know what else I could say about it. The trigger is perfectly adjusted at the factory and the trigger blade can be adjusted individually. The trigger weight is low. I measured a trigger weight of 17.6 oz (500 g).
The shot itself is absolutely recoil-free. You don't notice any recoil on the stock, so to speak. The rifle rests very well against the shooter's body due to the rearward offset point of mass. You pull it with your front hand nicely into your shoulder. It's absolutely amazing.
I sometimes say to my wife that I'm going up to the attic to snuggle with my ProX. Somehow it feels like that: You take the rifle in your hands, pull it closer, put your cheek on it… And then it's on! Please excuse this comparison, but I don't know how to describe it better.
I think you know what I mean, though.
The different versions of Steyr ProX
By now, the Steyr ProX product range has become quite large. The rifle is available as ProX, ProX Scout with a shorter cartridge and shortened barrel, then both versions with a laminated wood stock in gray or with a walnut stock as shown here in the test.
And now, for us German shooters who are 18 years old but don't have a firearm certificate, the 5.5mm caliber version is added.
I have often thought about which version makes the most sense for me personally. Since I mostly shoot at short distances up to 11m, I would go for caliber 5.5mm. For a simple reason: The pellets aren't as fiddly to load into the magazine. They're bigger, which is great for people with poor motor skills.
Now, if I were to shoot frequently at long distances over 25 meters, I would choose caliber .177 (4.5mm). Because at 7.5 joules of power, the smaller caliber simply has the better trajectory at longer ranges. The somewhat heavier pellets in caliber 5.5mm drop to the ground more quickly after a certain distance.
I would choose laminated wood for the stock. Not because I don't like walnut, but simply because I personally like the one with the laminated wood better.
Visually, I like the longer version of ProX better and you also have a higher shot yield with the longer cartridge.
That's why my personal choice would be exactly THIS ONE.
However, it's great that people have different preferences, and everyone can have a different opinion.
Sometimes it has to be Steyr Sport
In the last few years, I've had my hands on a lot of Steyr Sport guns. I have also tested almost 100 guns from other manufacturers, but I am always happy when I get to test a Steyr gun again. I just like everything about these guns.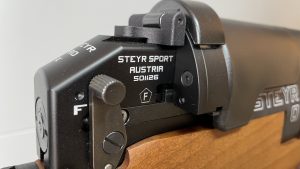 The quality of the guns, the company, the service offered when you have a question or a problem, the precision, the materials used and simply the quality of workmanship. You won't find a defect or processing flaw on a new gun.
Sure, the guns aren't cheap, but they're worth the money!
This is also the case with ProX in caliber 5.5 mm. You have to spend some money. However, after the purchase you know that you have received an outstandingly good rifle for your money. And should problems arise, you won't be left out in the rain. This feeling alone has always been very important to me when buying products, no matter what kind.
How do you like the new Steyr ProX in caliber 5.5mm?
Have you ever had the possibility to shoot a Steyr Sport gun?
Thank you for reading.
See you next week!
Best wishes!
Yours, Andi