HW44 at the shooting range! How does the air pistol perform at longer distances?  I test it for you.
The initial situation
I filmed the review of Weihrauch HW 44 and took a closer look at it many weeks ago. The post and video were very well received by readers and viewers. I promised back then that if you were interested, I would make a second video. Today is the day!
Conveniently, I also now have a silencer for my HW 44. I attached it to the front of the barrel with two small grub screws. Some viewers wanted to know the sound level with the silencer. Unfortunately, I don't have a professional measuring device. However, HW 44 is now suitable to be used indoors.
Setup of Weihrauch HW 44
Ok, I admit the setup is more than unusual! My point today wasn't to recreate realistic 10-meter precision shooting, since I'm not really good in that. I wanted to get the maximum precision out of the pistol with the equipment I had available.
I used a rifle scope, my Hawke Airmax Compact 3-12×40. A medium heigh Sportsmatch UK TO78 mount holds the incredibly good scope on the pistol. I mounted my Accu-Tac Bipod WB-04 to ensure a secure stand. The pellets I use are my AirGhandi's Finest. The pads I use are from HEKA.
Of course, you will get most components in my online store! It would be great if you would take a look!
The conditions outside
Of course, a precision test is always dependent on the weather conditions. A slight change in wind can already thoroughly spoil the whole test. We were lucky, though, which is why we managed to get really decent results. Take a look at the test for yourself:
My conclusion of Weihrauch HW 44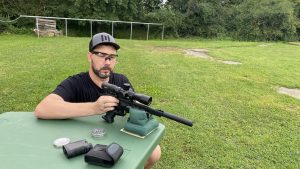 I already made a conclusion in my review. At the time, I was more than excited about Weihrauch HW 44. This feeling was reinforced with today's shooting test. You see that you can get outstanding results with this air pistol. Even at long distances. Of course, few of you will shoot the pistol with exact this setup. This is absolutely understandable. However, for me it was anice combination to do my tests.
Particularly noteworthy is the flexibility that you have with HW 44. Whether you use the front and rear sights, a reflex sight, or a rifle scope, whether you shoot it on a benchrest or freehand, HW 44 always performs great.
Perhaps I was able to show fans of ultra-compact air rifles an interesting product that they can consider for themselves. After all, you could add a carbine from Rink Formgriffe to HW 44.
Thank you for your time!
Have a nice week!
Yours, Andi
Interesting links:
If you want to see which air pistols I have already tested, have a look HERE.
Do you already know my international YouTube channel? HERE you will find videos of more powerful air rifles in English.