HW100 vs. Dreamline! I compared shooting them at 25m. Check out how it turned out in today's video.
The requirements for the shooting test
I was on my range with the two air rifles. I had equipped FX Dreamline in the Tactical version with an Accu Tac bipod and an Athlon MIDAS Tac 6-24×50 FFP. Weihrauch HW100 had the Hawke Airmax Compact 6-24×50 mounted. I couldn't mount a bipod to the rifle. The hunting stock isn't designed for that. You have to admit that it would be a bit visually distracting anyways.
I shot the two PCP air rifles from my mobile benchrest table. It's not perfect because it wobbles slightly, but it's portable. I think it's a pretty good compromise. Of course, the results would be even more accurate under laboratory conditions with the rifles firmly fixed in place. However, since both rifles had the same conditions in terms of wind, rifle rest and pellets, I think the test was fair.
I pre-selected the pellets at home before I left. The JSB Exact 4.52mm pellets and AirGhandi's Finest performed the best in my tests. So, I used those two for the respective tests as well.
HW100 vs. Dreamline
People often ask me: Andi, which rifle should I buy? Weihrauch HW100 or FX Dreamline? That is not always easy to answer. Basically, both rifles are PCP air rifles. However, I think they appeal to different shooters.
FX Airguns clearly appeals to the modern, technically skilled, and tactical shooter. The modular design, innovative interchangeable barrels and tactical look of many models are clearly aimed at the modern shooter.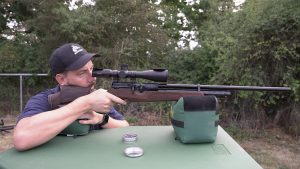 Weihrauch, on the other hand, relies on a system that has been tried and tested for years. They aren't taking any risks with the design and are clearly targeting hunters and more conservative and traditional shooters.
Both concepts have their own reasons and simply can't be compared with each other. Originally, that's what I had in mind. However, the longer I thought about it and compared individual things, the clearer it became to me that I was comparing a Rolls-Royce with a McLaren here.
Shooting with HW100 and Dreamline
So, in the end there was only one thing left for me to do. I shot both rifles with the same pellets, at the same distance, under the same conditions, and then compare the results. Which air rifle will prevail? HW100 vs. Dreamline! Which one is more precise? Check out my video:
I hope you can make your decision now. What type of shooter are you?
Which is the better rifle for you? Or do you simply need both?
I'm looking forward to your opinion.
Below you can see a nice collection of pictures. Have fun looking at them.
Have a nice day!
Best wishes!
Yours, Andi
Interesting link:
Do you already know my international YouTube channel? HERE you will find videos of more powerful air rifles in English.