Today I present you my new format: AirGhandi's Quick Shot! Today with AirArms ProSport.
What is the new format about?
If you like it, I'll post an AirGhandi's Quick Shot video from time to time in the future. In this video I'll take one of my air rifles and shoot at some targets while I inform you about news that might be interesting for you as air rifle and air pistol shooters.
The topics of today
While I'm shooting some targets with my AirArms ProSport at a distance of 11 m today, I'll tell you something about my own pellet series which will be available soon: AirGhandi's Finest and AirGhandi's Training Master. I'm incredibly proud to launch my own pellets after five years of hard work on my channel and my project "AirGhandi". The main requirements for the pellets were: high quality, reasonable price and "Made in Germany". If you want to support me and my project and use high-quality pellets, you should get some cans. These are available as of June 2020 at action-shop24.de.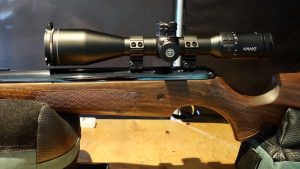 The second topic will be English videos, which I will probably publish in the next weeks in addition to the usual content. Then I will inform you about the new features here on my website.
Lutz Krüger contacted me a few weeks ago and told me about his website migration. I linked the new site below this post.
Then I want to thank the forum of WPU. My articles and videos were linked there in the last weeks and months. Thank you very much for that!
Does the format have a future?
Whether AirGhandi's Quick Shot has a future will depend entirely on you. I'm eager to hear your opinion. I would be happy if you would write a couple of words in the comments below.
Now I wish you a nice day!
Enjoy the video!
Interesting links:
My review of AirArms ProSport.
Do you already know my international YouTube channel? HERE you will find videos of more powerful air rifles in English.