Crosman 1322 makes the heart of every plinker beat faster. There are many arguments in favor of the inexpensive pistol. That's what I'm trying to show you today.
Technical specifications of Crosman 1322
Crosman 1322 is an air pistol that uses pre-compressed air to drive the pellets through the barrel.
Before you can load the pellet, you pull the bolt action lever back once and then push the .22 (5.5 mm) caliber air rifle pellet down the barrel. Then you pump 2-10 times. After pulling the non-adjustable trigger, the pellet is shot through the barrel. The more often you pump, the stronger the performance of Crosman 1322.
You can aim at the target via the rear sight and front sight. You have the choice between a normal rear sight and an aperture sight. You just have to rotate the rear sight blade to select your prefered sight type.
The bolt action lever can be operated with the right hand.
Shooting with Crosman 1322
I really enjoyed going to the shooting range today. Normally, when I go to the range, my car is packed with shooting equipment. Shooting table, shooting rests, compressed air tank, pellets, safety glasses, various targets, and a lot of other equipment.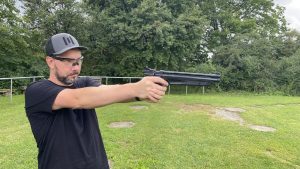 Crosman 1322, however, is absolutely undemanding. I only packed the pistol, pellets, and a few targets. It doesn't take much more to have some fun plinking.
Also, inserting the pellets isn't fiddly. The .22 (5.5mm) pellets are quite a bit larger than the .177 (4.5mm) pellets I normally use in almost all of my air rifles. They can be conveniently taken out of the tin and inserted into the barrel via the large breech.
You can watch my shooting results here:
My conclusion of Crosman 1322
I'm not a good pistol shooter. Lately, I've been shooting mostly air rifles, and most of the time I put them on a rest and shoot while sitting. I'm currently trying to get the ultimate precision out of all my firearms. I welcome the change that shooting with my Crosman 1322 provides. The fact that you have to do some physical activity while pumping doesn't bother me at all. Too often I sit in front of my computer or at the shooting table and don't move for hours.
I like Crosman 1322 even more than its little brother, Crosman 1377. They're two similar pistols anyway, but if you're going to choose an air pistol for plinking, it may as well be the one with the larger pellets.
How did you like the video?
Would you like an air pistol with a pump mechanism?
Thank you for reading!
Best wishes!
Yours, Andi
Interesting links:
You can get an overview of all air pistols tested so far HERE.
HERE you will find my own online shop jabololo.de. Have a look!
Do you already know my international YouTube channel? HERE you will find videos of more powerful air rifles in English.