AirGhandi tests Hawke Airmax 3-12×50 Compact!
Little by little, I'll try to introduce you to all my favorite scopes. Over the last few years, I've had dozens of optics in my hands. I try to pick out high-quality scopes in my pre-selection so I can take a closer look at them. Sometimes there's a real highlight. A scope that is best in its class for specific rifles or demands of the shooter.
This is also the case with Hawke Airmax 3-12×40 Compact.
Special features of Hawke Airmax 3-12×40
What makes this scope so special?
First of all, the optical quality is absolutely convincing: The 16-layer fully multi-coated lenses, the 30mm center tube, and the manual parallax adjustment (focusing) produce plenty of brightness and a crisp, sharp image. The scope is made for air rifles and entirely shockproof, moreover, the manufacturer gives a 10-year warranty.
The dimensions are so compact that the scope fits easily on short break-barrel air rifles, such as Weihrauch HW30 S. From my point of view, it is the best scope you can mount on the popular small rifle.
I personally also like the AMX reticle of the scope very much. It's nicely detailed and doesn't cover much of the target. In addition, you have the advantage to illuminate the reticle in several steps. It's also nice that there's a detent to set your preferred brightness level. Assuming one prefers the 4th step, you don't have to go through all 4 steps each time, but instead simply switch to your favorite one.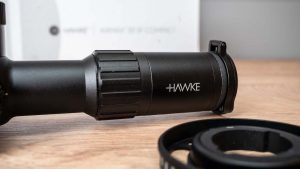 At the eyepiece, you then also have the option of focusing the scope according to any visual impairment.
Actually, the scope offers everything you could need and expect.
Now I wish you a lot of fun with my video! Here you can see the scope and make up your own mind about it:
What's your favorite rifle scope?
Have you ever had the opportunity to test a scope from Hawke?
Thank you for visiting my website and you interest!
Best wishes!
Yours, Andi
Interesting links:
Do you already know my international YouTube channel? HERE you will find videos of more powerful air rifles in English.
Have you already found your favorite air rifle? HERE is an overview of all rifles I have tested so far.