In my review of Beeman P17, I had announced that I would like to show you an additional test shooting it. I wanted to do it with a reflex sight. Therefore, I mounted a Hawke micro reflex sight on an adapter rail. I want to see what result I can achieve as an average pistol shooter.
The air pistol
Beeman P17 is an affordable air pistol that is nevertheless very precise. When the air pistol is closed, the air is pressed into the compression chamber. After pulling the trigger, the pellet shoots out of the barrel with about 4.4 joules. The pistol is light and handy and can be comfortably operated by both left- and right-handed people. For 80 Euro you can have a lot of fun!
The setup of Beeman P17
Since I still have some difficulties to shoot precisely with the rear sight and front sight, I have mounted the Hawke micro reflex sight. I've set it relatively dark, so the red dot is nice and small and does not cover too much of the target.
Some time ago, I tested head pellets. I compared inexpensive brands with each other to be able to give a recommendation which air rifle pellet has the best price-performance ratio. Today I used the successor of the former test winner: the H&N ECON. They have been improved once again, the head design has been changed, making the pellet even more precise. The new version is called H&N ECON II.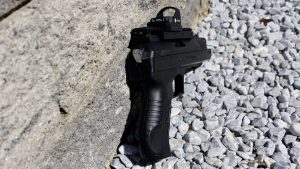 With this extremely affordable combination, I want to see what results I can achieve. I know there are much better shooters out there. I would be very happy if you could send me pictures of your results (shot at 10 m with an air pistol) to servus@airghandi.de. Write me also with which pistol model you have achieved the results. I will then post them here on the website together with your first name. I'm looking forward to it!
But now have fun with my video!
Best wishes!
Yours, Andi
Interesting links:
Here is a comparison between Weihrauch HW 40 and Beeman P17.
Do you already know my international YouTube channel? HERE you will find videos of more powerful air rifles in English.