On my third day at IWA 2019, I actually just strolled around at the trade fair. I didn't have a specific destination; I just wanted to enjoy the atmosphere and also take a look at halls and manufacturers of products that have nothing to do with our hobby.
On the way from one hall to the next, I noticed something while passing by. There was a small booth with two large green boxes that had something moving inside of them. In hindsight, I'm really happy that I chose this exact hallway to walk through and not one of the five other options.
I immediately stopped and said to my companions: "You can keep walking, I'll find you, this is going to take a while". That wasn't a lie.
In the green metal boxes, a sounder of boars just ran out from behind a tree across the box to disappear again on the right side.
I introduced myself to the nice gentleman: "Hello, I'm Andreas, operator of the YouTube channel and blog AirGhandi. "We need to have a chat."
How do I put it?
I must confess that I always feel a little strange. Should I say that I am "AirGhandi"? Actually, my name isn't AirGhandi and by now there are more people working on this project besides me. I have a nice graphic designer, someone who takes care of the privacy and technology behind my blog, and a photographer I can rely on. Then there's my wife, who protects you from many spelling mistakes, and a social media specialist who takes care of Facebook and Instagram. All inquiries will be answered by me, of course. However, posting pictures and videos on Facebook and Instagram eventually just became too much for me. I put all my passion into the blog and the videos. I have little influence on whether they will always be on YouTube. The blog, however, remains as I like it. I just want to get as many people as possible interested in our great hobby. That is my commitment.
Back to Keilershoot Pro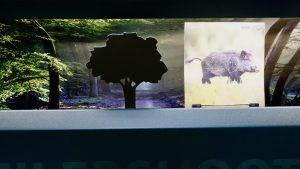 There I was, standing in front of the big box. Have I finally found the perfect target I've been looking for this past three years? Moving responsive targets, high-quality workmanship for durability? Finally, something where everything has been thought of?
I once bought a box with moving targets for 60 euros. Sometimes they fell over, sometimes they didn't. The box ran on batteries and was so incredibly loud that I only used it twice. Shooting is supposed to be relaxing for me. When I go to my attic, I want to recharge my batteries and not expose myself to stress.
Countless questions immediately popped into my head. I was glad that the other prospective customer in front of me finally was done. I finally had the manufacturer all to myself.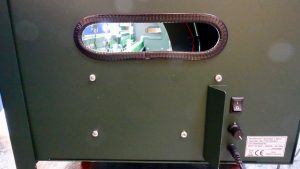 How thick is the metal of Keilershoot Pro?
How is the lighting installed?
Is the speed at which the targets run flexibly adjustable?
Does Keilershoot Pro have a power connection?
Can the targets and obstacles be attached individually?
How can you remove the pellets?
All the questions I asked were answered directly. I have to say, I was really euphoric. I don't think it's news to anyone by now that I'm a shooting sports fanatic. Have I finally found something that motivates me even more to pick up an air rifle or air pistol?
Is all this praise justified?
You can probably already tell from the lines you've read so far that, without even having fired a shot, I was already overly excited. So, how does Keilershoot Pro perform now? Did I finally find the perfect target? Or was I jumping the gun and need to keep looking?
Now it's time that you watch my video:
Conclusion of Keilershoot Pro
Dear shooting clubs, set up a box like this at 10 meters and invite young people to try shooting. I see immense potential here to inspire young and old to try out air rifle shooting. There are so many ways to organize small competitions or tournaments. It doesn't always have to be just one shooter who shoots at the targets. A sounder of five boars can also be hunted simultaneously by several shooters.
The speed can be adjusted continuously, and, in addition, the targets can also run in both directions. Thus, the level of difficulty can also be adjusted individually.
For those who would like to spare the boars, there is also the possibility to save humanity from zombies. This may be even more interesting for young people. I'm sure those won't be the last targets developed for Keilershoot Pro. Since they're easy to change, you're not stuck with the same ones all the time.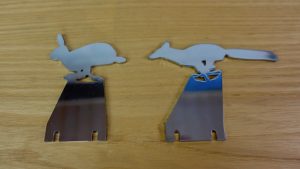 Yes, my search is over. I don't know what could top that. How is it possible to add even more fun?
I don't know. I can't contain my enthusiasm.
Positioning of the box
It is recommended to position the box on the floor and then shoot from an angle above while standing. This way, the bullet trap minimizes ricochets. The perfect distance is 8 – 10 yards / meters. It is recommended not to use steel BBs. They tend to ricochet. What I recommend in almost every video anyway: Wear safety glasses. Please invest the few bucks and protect your eyesight. Not only when using Keilershoot, but also otherwise.
The price of Keilershoot Pro
Of course, Keilershoot isn't cheap. I know that. But 100% high-quality work Made in Germany simply has to be paid for. The demand for quality in our sport is high. When you think about what many shooters spend on air rifles and also scopes. I have spent hundreds of Euros on various targets and shooting games over the last few years. I've only been really happy with a few of them.
Be it the well-known fox/boar/duck boxes, which were designed in such a way that the pellets, upon reaching the back after a while, are directed downward to the ground through a resulting gap. That's how I ruined the whole cork floor in my shooting room. I have already worn out three of the boxes. At a price of 50-60 Euros, that's not exactly cheap either.
The investment needs to be well considered. However, it is something for quite a long time. I'll do another video in a few months after shooting at it a thousand times. I took a close look at the processing. I don't see anything that could break.
Should you want to order a Keilershoot, you have to take into account a slight delivery time, of course. The box is manufactured in the north.
Advantage for "AirGhandi" blog readers
Of course, I always try to get something for you. For AirGhandi blog readers there is a voucher worth about 60 Euro by entering the code "AirGhandi" when ordering from www.keilershoot.com. It includes three folding targets and three cardboard cards. You can choose which ones you want and simply add them to your order.
As you can see, I'm still euphoric, even though I've been shooting at the box for many weeks now.
I hope you also have the opportunity to test it!
Thank you again for visiting and have a great time!
See you next time!
Best wishes!
Yours, Andi
Technical data Keilersoot Pro:
Size: 55" x 15" x 18" (140 x 40 x 46 cm)
Weight: 86 lbs. (39 kg)
Material: 0.6" steel sheet
Manufacturer's contact information:
Tel. +49 157-50165773 (Monday – Friday 9 a.m. – 6 p.m. CET)
service@keilershoot.com