Today I present you a tuning kit for your Weihrauch air rifle!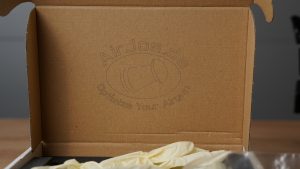 Weihrauch air rifles are without a doubt worldwide some of the best air rifles in the recreational market that you can get. I don't think there will be anyone in the community who disagrees with me on that point. However, there are always people or companies who are still not satisfied with this. They are working on making the outstanding guns even better.
Not only competitors, but also recreational shooters want their favorite rifle at the absolute maximum. It's not about performance or power, but mainly about handling and shooting behavior.
The history of tuning
I've been observing the market for many years and am an absolute shooting enthusiast myself. None of my air rifles are still in factory condition. I designed each within the current laws in terms of stock, system and optics to suit me even better.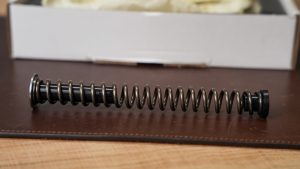 A few years ago, the tuning kit from V-Mach was the measure of all things for Weihrauch air rifles on the market. When properly installed it greatly improved the rifle's shooting performance and reduced the recoil. If you then also installed a tuning trigger, the shooting results became even better. Sadly, in November 2020, Steve Pope, the owner of V-Mach, passed away after severe illness.
The V-Mach products became rarer and rarer on the market until they gradually disappeared. There have been a few companies that have tried to fill that void. I tested these products; none could come close to V-Mach products.
Many were carelessly put together. I had tuning kits for my Weihrauch rifles that didn't even fit in the rifle or resulted in not being able to cock the rifle. I also rarely noticed a significant improvement in the shooting behavior. It didn't help that these kits were cheaper than the V-Mach kits. In the end, if the performance, consistency or shooting behavior isn't right, it was a wasted effort.
With the AirJoe Tuning Kit, each one is assembled so that the spring and spring guides fit together perfectly. If the spring guide is too loose, precision is lost. If the spring guide is too tight, then you lose power or have large variations in the speeds of the pellet. Everything really has to fit perfectly.
The AirJoe Tuning Kit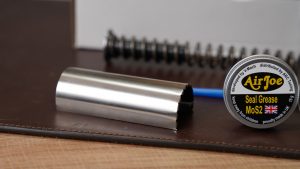 Then, many months ago, I had the opportunity to test a tuning kit from AirJoe. I was pleasantly surprised at how the rifle shot. I then followed the startup's journey closely and encouraged them to produce the kits in larger quantities. There are certainly many shooters who would also like to achieve even better results with their air rifle.
Then a test phase in cooperation with Lyndon Lewington followed which lasted months. Many of you surely recognize that name. Lyn has been a certified V-Mach tuner and a very close friend of Steve Pope. Among other things, he has written articles on air rifle tuning for the Airgunshooter magazine in England.
Well-known components from the V-Mach kits are used in the AirJoe Tuning Kits, some of which have been further developed in meticulous work. The supplied greases still come directly from V-Mach and the piston seal is the same shape and exactly the same material as the one from England. Also included in the tuning kit are the inner sleeve and the innovative hinge pin that are both identical to the V-Mach ones.
The contents of the tuning kit
The complete parts list is as follows:
Original shortened Weihrauch spring with 2 guides (front and rear)
green piston seal identical to V-Mach
stainless steel inner sleeve identical to V-Mach
screwable hinge pin identical to V-Mach
POM and stainless steel shims
3 tins of grease from V-Mach
rubber gloves
brush
transparent foil
manual
If you now want to have a look at the kit, I recommend my video:
By the way, we are in the process of producing installation videos for various Weihrauch air rifles. However, please give us some time. Of course, we'll do it legally with a gunsmith. But finding a date with the manufacturer, gunsmith, cameraman and I is not easy right now.
I hope that I could awake your interest in the tuning kits. These are outstanding products that we don't want to withhold from you. Have a look in our store at www.jabolo.de.
How did you like my post?
Have you ever installed a tuning kit in your rifle?
I'm looking forward to your feedback!
See you next week!
Best wishes!
Yours, Andi