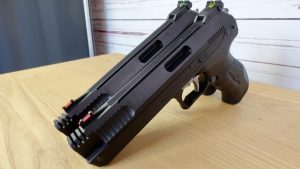 A few months ago, I showed you the Weihrauch HW40. A high-quality but nevertheless quite inexpensive air pistol, which provides a good introduction to air pistol shooting. Now, a few months later, I have become aware of Beeman P17. At first glance it looks almost exactly like the Weihrauch pistol. However, the indicated sales price is much lower than the one of HW40. In my recent review of P17, I promised you to compare these two air pistols. Today is the day!
External differences of Weihrauch HW40 / Beeman P17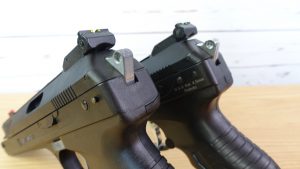 At first sight, the two air pistols look deceptively similar. The most obvious differences are the material used and the paint on the trigger, hammer, and safety lever. These parts of Weihrauch HW40 are nickel-plated and have a matt finish. Those of Beeman P17, on the other hand, are quite shiny and seem to be varnished.
The trigger of the two air pistols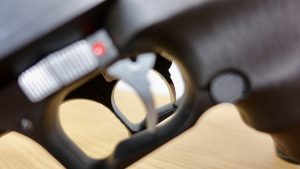 In my opinion, the biggest difference is the performance of the trigger. It is quite easy to pull the trigger of Weihrauch HW40. When you reach the point, you only have to apply a little more force to make the shot break. I measured the trigger weight at about 400 grams. I have to say, Weihrauch has done a great job here.
The trigger on Beeman P17 is a bit more difficult to handle. Not much, but the difference is noticeable. Here, too, we come to the point where we have to apply a little more force to fire the shot. Against my expectations, the shot doesn't break immediately. The increased pressure must be applied a little longer before the shot then breaks without further warning. The trigger weight measures about 800 grams. You can still get incredibly good shooting results with Beeman P17, but HW40 is in the lead in terms of trigger performance.
The power of Beeman P17 and Weihrauch HW40
In terms of power, Beeman is superior to Weihrauch. I tested the air pistols with my own pellet brand, the H&N Field Target Trophy 4.50 mm. P17 achieved a power of 4.4 joules. Weihrauch HW40 achieved just over 3 joules. Both performances are sufficient to shoot precisely at a distance of 10 m.
The workmanship
Once again, the point goes to Weihrauch. While the plastic is excellently processed and no excess edges or suchlike can be found, you can see slight processing defects on P17 here and there. There, two parts are not glued 100% exactly on top of each other and a small edge can be found when brushing over it with your hand. The quality of the workmanship corresponds to the amount of money you spend. You get what you pay for. The price-performance ratio of both pistols is excellent. Beeman P17 is already available at a fantastic price of 80 Euros, while Weihrauch HW40 currently costs around 130 Euros.
My conclusion of the comparison
Are you a plinker or amateur shooter who can't spend too much money? Do you put function before beauty and a pistol is an object of utility? Then your choice should be Beeman P17.
If you don't have to worry about your money and can spend 50% more for quality Made in Germany, then your right choice is Weihrauch HW40. Beginners who are seriously considering starting with 10m shooting should really take a closer look at it.
My decision is not final. The good thing is that I bought Beeman P17 for myself and Weihrauch HW40 is a permanent loan from a buddy. So fortunately, I don't have to make this decision.
Now I'm looking forward to your opinion!
How would you decide?
Thank you for reading. Stay healthy.
Best wishes
Yours, Andi.
Interesting link:
Here you will find my test of shooting Beeman P17 with a Hawke micro reflex sight.
Do you already know my international YouTube channel? HERE you will find videos of more powerful air rifles in English.