I took my Anschütz 9015 Sniper Aluminum to the shooting range. I took advantage of the great weather on a Friday morning and drove the 24 miles (40km) to the range.
My gear included my 9015 Sniper and a lot of very small items that I used as targets that day. Among other things, there was a box of TicTacs, matches and grains of rice.
I shot these targets at a distance of at least 27 yards (25 m).
The setup of Anschütz 9015 Sniper Aluminum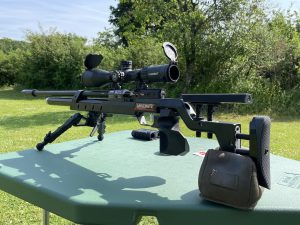 Today I was on the field with the aluminum version of 9015 Sniper. In addition to this model, we also offer a version with a walnut stock at www.jabolo.de. It even costs 350 Euros less and is available for 1800 Euros.
I used a Sportsmatch UK ATP61 mount. It keeps my Element Nexus 5-20×50 riflescope right where I want it. By means of the silencer adapter, I can use my DonnyFL Tanto. An adapter from UIT to Picatinny rail allows me to use the Accu-Tac WB-04 bipod as a rest.
The pellets I'm using today are the Qiang Yuan Domed, 4.50mm with 0.55 grams. I have to admit I'm a long way from having tested all the popular types of pellets. But those work so well that I'm already completely satisfied and pleased with the precision of the gun.
I have to say that I've never shot a video as good as the one below:
Practically every shot was a hit. You get good days like this only once a year. Of course, it's great when you have the camera pointed at it at that moment.
The most precise air rifle with 7.5 joules
Yes, the title of this paragraph is quite provocative. There are many good air rifles! But the price-performance ratio of 9015 Sniper is simply unbeatable from my point of view. I think the precision of a competition match rifle in the guise of a recreational rifle is unique.
It makes me happy every day that we have the opportunity to offer this outstanding piece of technology at such an attractive price. Yes, I'm actually really proud of it for once.
If you have any questions about the rifle or accessories for this rifle, please feel free to contact me. After all, there are many ways to contact me.
I hope you were somewhat entertained by the video. Because that's the reason I shot it!
Which version do you like better? Wood or aluminum?
Have you checked out my review of the rifle yet?
Now I wish you a great week!
Best wishes!
Yours, Andi