Anschütz 9015 Sniper! An outstanding special edition model exclusively available from us!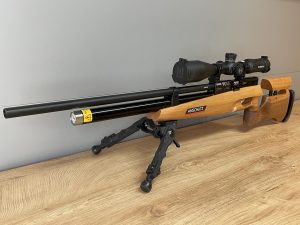 I don't even know how many shots I've fired over the years. I have tried my hand at practically everything that has to do with air rifle shooting. Be it handguns or long guns, spring piston, CO2, or compressed air. Be it shooting in a standing, prone, kneeling or sitting position. I have been plinking, shooting with concentration, or just shooting for fun. For all these ways of shooting, there are rifles and pistols that are particularly well suited for this.
However, what I've always enjoyed the most and what I've always come back to is high accuracy shooting in a sitting position at short and medium ranges.
When I've had a hard day at work or just need to unwind, I like to go into my attic, sit down at my shooting table and tune out everything around me. Then I enjoy the relaxing, comfortable, yet extremely engaging, precision shooting.
However, I don't follow any rules or disciplines that are imposed on me by anyone or that are written in any regulations. I shoot the way I enjoy shooting the most.
Because I'm an attic sniper!
Outstanding technology is a must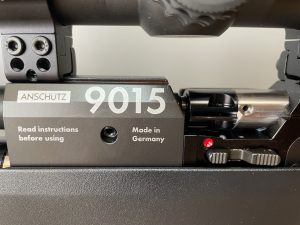 Then, when I'm sitting at my shooting table, blocking out the environment and focusing only on the target, I want to shoot with the highest precision that is somehow possible. If I don't hit my extremely small targets, I want to be reassured that it's my fault and not the equipment or that the pellets have failed.
I listen to my breathing, focus on the target, try to control the pulse rate that shows up in my scope by slightly moving up and down.
And then fire the shot at the right moment. Not just anywhere. Precisely where I want the shot to be, down to the millimeter.
For all shooters who feel addressed by these lines and can understand what I mean by that, there is now the right rifle for you: Anschütz 9015 Sniper!
Special features of Anschütz 9015 Sniper
Anschütz 9015 Sniper is, in my opinion, the best air rifle you can buy on the market for high-precision mounted shooting with 7.5 joules of power. Period.
I've been working with the company Anschütz to figure out how to configure their outstanding competition rifle so that attic snipers can also indulge their passion. We have taken to heart what the recreational shooter particularly needs and appreciates and have not settled for a 99% solution.
In Germany, if you want to shoot at home in your attic, basement, or backyard, you are limited to 7.5 joules. Higher powers may only be shot on shooting ranges.
However, with 7.5 joules, targets beyond a distance of 27y (25m) can also be hit with high precision. Provided you have the right rifle and the right scope for it.
Now I'm not talking about targets the size of a beer can. I'm talking about grains of rice, pinheads, or other targets on that scale. This is a challenging task that you can accomplish in the comfort of your own home.
And the rifle that I think will give you the best chance of success is Anschütz 9015 Sniper.
I'm of course immensely proud that this special model is available exclusively in my online store www.jabolo.de/en(available only within Germany).
Technical specifications of Anschütz 9015 Sniper
9015 Sniper is an outstanding rifle. The rifle is 100% manufactured in Germany. From a company that builds more than 95% of the world's competitive biathlon rifles. A company that, in addition to high-quality hunting rifles, also manufactures the air rifle presented today.
A special quality feature of this rifle is the Anschütz 5065 4K trigger.
5065 4K is arguably the best match trigger you can buy anywhere in the world. The trigger blade is positioned axially on four balls with zero backlash. This results in a smooth and steady pre-travel, which leads to a noticeably clear point of release.
The trigger blade can of course be fully adjusted to your preferences. You can move it back and forth, adjust the height and swivel it sideways.
Anschütz 5065 4K contains more than 50 different parts. They are housed in a high-strength casing.
The 20" (510mm) precision match barrel of 9015 Sniper is also manufactured directly by Anschütz themselves. No compromises are made in terms of quality and precision. Only the best leave the factory in Ulm.
Anschütz 9015 Sniper doesn't have a recoil. Due to the built-in maintenance-free stabilizer, nothing moves at all when the shot is fired. The revolutionary firing pin and valve system also ensure recoil-free shooting.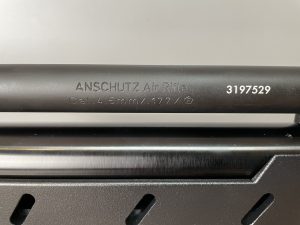 Of course, the rifle also has a regulator installed. It ensures that every fired shot has the same velocity. The regulator even has an air filter. It keeps dirt away from the system.
The shot development time is extremely short. If you want, you can even dry fire without using pellets or compressed air.
The pellets are easily inserted into the barrel. You pull back the cocking lever, then you put the pellet directly into the barrel. It is extremely comfortable to reach, even with large hands.
The highest quality was also used for the cartridge. We chose a matching black color. The cartridge is made of aluminum and weighs just 0.9 lbs. (410 grams) empty.
Service? Of course!
If you want to service your 9015 Sniper, you can of course have it done directly at Anschütz. The service for Anschütz air rifles is done professionally in Germany. This guarantees that you always have the best performance available.
The look matters
When I take my air rifle out of the gun cabinet, I want to be excited. I want to enjoy not only the technology and precision, but also the look. Everything just has to match, and the rifle has to look great.
Special parts were made for 9015 Sniper, so that you also have the perfect equipment and a realistic beautiful rifle for this kind of shooting. For the Sniper model, we took a step away from the look of match and hunting rifles.
Sniper is best shot sitting down, preferably with a bipod. To mount a bipod, we have adapters that fit in the UIT rail recessed in the bottom of the stock. On the one hand, there is the adapter UIT to Picatinny, for example, to use the bipod Accu-Tac WB-04, which fits in style. Alternatively, we also have a UIT to sling swivel adapter for shooters who want to use a Hawke bipod, for example.
Choosing a rifle scope
Of course, an attic and garden sniper also needs a suitable scope. If you want to shoot millimeter-sized targets at 10y (10m), 21y (20m), or 32y (30m), you'll also need high magnification to see and aim at them. I recommend optics with a minimum magnification of 24x.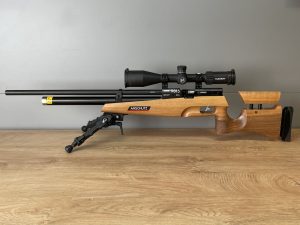 Believe me, if you're shooting targets that you see at 9x or 12x magnification, it gets boring very quickly. 9015 Sniper is simply far too precise for that. We have many different scopes to choose from at www.jabolo.de/en. Element Helix and Hawke Sidewinder might be particularly interesting. But many others come into question as well.
When selecting a scope mount, make sure it fits the 11mm prism rail on 9015 Sniper. You can find the matching mounts next to the scope in my store. If you are unsure, you are of course always welcome to contact me.
Once you get to know the precision, feel and handling of 9015 Sniper, you won't want to shoot any other rifle. You can't buy more precision and higher quality.
If you need help sighting in your scope, check out my post on how to do it!
What is a sniper rifle without a silencer?
If you want to make the already extremely quiet air rifle almost silent, we of course also offer an adapter to add a silencer to your 9015 Sniper. You can get the adapter HERE and a selection of different silencers can also be found in my store.
This way you can personalize your 9015 Sniper even further and bring it to perfection. In addition, by using a silencer, you can use the rifle at home without making much noise.
With Anschütz 9015 Sniper, we enter the world of maximum precision.
You don't like the aluminum stock? No problem!
If you don't like the visual design of Anschütz 9015 Sniper, but still want to shoot this outstanding air rifle, I'm pleased to offer you Anschütz 9015 Sniper Wood.
Although 9015 Sniper already has a really good price for such an outstanding technology, the rifle with the extremely high-quality walnut stock is even more attractive in terms of price. So, even fans of wooden stocks can take advantage of the outstanding technology of this Anschütz air rifle. Of course, this model is also exclusively available from us.
My conclusion about Anschütz 9015 Sniper
With my default Anschütz 9015, I won the Hunter Field Target and Field Target training camp in Kölschausen 2 years ago. I was able to show what Anschütz 9015 can do. Together with the company Anschütz, I have now configured it for recreational sniping.
Competition precision is now available to every recreational shooter. Get the most reliable compressed air rifle in the world!
I'm just happy and proud of the rifle. By always being on the lookout for the best technology and the best rifle, I'm sure I've owned 50-60 rifles over the years… probably more. But now I have found the perfect rifle for my favorite way of shooting. And now you can have that too.
Save yourself the long search. You will be amazed.
Finally, recreational shooters have the technology and service of a competitor in their hands. And all this in an attractive and extremely easy to use rifle.
How do you like the rifle? Or do you prefer the classic design of 9015 Sniper Wood?
If you need free sniper targets, you can download our jabolo targets right on the article.
For us recreational shooters, garden and attic snipers, there is no other rifle in terms of quality, reliability, precision and with this service.
You can already tell; this post never seems to end. I could write so much more, however, I think I'll split it up and write some more posts.
Thanks for reading!
Best wishes!
Yours, Andi
Announcement:
The extremely popular Field Target and Hunter Field Target Training Camp will take place again in Kölschhausen at the beginning of June. There are still a few places available!
HERE you can find more information about the training camp in Kölschhausen which will take place from June 4th – 5th 2022.