Today I'll show you Sig Sauer ROMEO4H + JULIET4. This is a set consisting of red dot and a magnifier.
I'm always looking for unusual and cool equipment for your guns, pistols, and air rifles.
Surely you have seen a special unit in some action movie, aiming at targets with a gun while looking through a red dot. This red dot often has a magnifier placed in front of it, which can be flipped in front of the red dot sight, if necessary, to quickly aim at targets at a greater distance. I always thought that was really cool.
So, I decided to get this combination and test it. I had the choice between different sets. Since I like higher magnifications, I chose the set of ROMEO4H + JULIET4 from the American brand Sig Sauer.
Specifications of the red dot sight
The ROMEO4 red dot sight is used by various elite police and military units.
It features a very fine, 2 MOA red dot. You have the option to display a 65 MOA ring around the dot as well. It allows for even faster target acquisition.
Especially with moving targets, this is a great advantage. Due to the extremely small dot, even small or distant targets can be perfectly aimed at without covering them. Thus, shooting is absolutely comfortable even at distances of 50 or 100 meters.
In total, 4 different reticles can be selected (Dot, Circle-Dot, Dot with holds, Circle-Dot with holds).
Sig Sauer's Motion Activated Illumination System (MOTAC) uses an integrated motion sensor to regulate battery power extremely efficiently, providing up to 50,000 hours of battery life.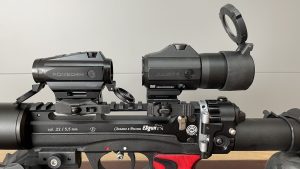 A big advantage of Sig Sauer ROMEO4H is that you don't have a fixed eye relief. This means that ROMEO4H can be used both on a pistol with an outstretched arm, but also at a distance of 10cm on a rifle right in front of you.
The red dot is designed for the most extreme tasks. The housing is made of extremely robust, CNC-milled aluminum and thus is very light in weight. It is waterproof (IPX-7, up to a depth of 1m) and fog proof.
Mounting is also super easy and can be done quickly. Thanks to the Picatinny quick-release mount, the red dot can be removed and reattached with repeat accuracy in no time at all.
Specifications of the magnifier
The JULIET4 magnifier is used behind ROMEO4H. The shooter then has a red dot with magnification, so to speak. This can be extremely helpful when shooting at distant targets. The special feature of the magnifier is that you can flip it to the side with one hand if necessary. Assuming you are hunting with your shotgun and have a fleeing target that is getting farther and farther away from you, you can add a magnification to the red dot to get an even better view of the target.
The combination of ROMEO4H + JULIET4 thus replaces a drive hunt rifle scope.
In order to adjust the magnifier to your red dot, the mount can be adjusted and the height of JULIET4 can also be adjusted. If you only want to shoot with the red dot, the magnifier can be removed from your gun within seconds using the quick release mechanism.
Made of high-strength aircraft aluminum, the magnifier is completely waterproof with IPX-8 standard (20 meters depth for 1 hour).
When you're not using JULIET4, you can simply fold down the attached lens covers. This protects the optics from dust and scratches.
My conclusion of the ROMEO4H + JULIET4 set
The set is awesome!
I've only ever seen such a combination in action movies. Now you can use it for your pistol, shotgun, or tactical air rifle. It's incredibly fun to quickly flip the magnifier to the side and back.
The optical quality is outstanding, and the robustness make the set a companion for life.
Any shooter who likes the tactical look and tactical shooting will have their heart beat faster.
You can purchase the ROMEO4H + JULIET set from my partner www.action-shop24.de. There you will find more combinations as well as the components of the set individually.
What do you think of the look of EDgun Leshiy 2 with the red dot and magnifier?
I'm looking forward to your opinion!
See you next time!
Yours, Andi