With Edgun Leshiy 2, I have a very special air rifle for you today.
In the course of the last years, I always had one or the other highlight for you. But what I present to you today simply beats everything. Start thinking about how you're going to explain to your wives why you need to drain your bank account after this review and video.
All joking aside… One thing at a time!
Leshiy 2 comes to Germany – with an "F" mark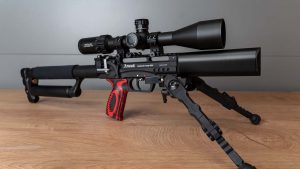 Yes, you read the subheading correctly! I will bring Edgun Leshiy 2 to Germany for you. Completely legal to buy for anyone over 18! (In Germany, the F stands for frei / free and indicates that the muzzle energy doesn't exceed 7.5 J and the air gun can be owned by persons from the age of 18 years without needing a license.)
I've had multiple versions of Leshiy 2 at home for a few months now, and I'm meticulously testing them and have fired several thousand shots by now. I was so enthusiastic about what I experienced during that time that we decided together to try to get the rifle approved in Germany.
We are already in the process of getting Edgun Leshiy 2 approved. When all the tests are finished, you will be able to buy Leshiy 2 in my online store www.jabolo.de. We took the money to make the costly approval process happen. We are firmly convinced that our enthusiasm will spill over to you.
The design of Edgun Leshiy 2
Leshiy is an extremely compact and incredibly high quality air rifle. You can tell that the designers have put an extreme amount of thought into the rifle, down to the smallest detail.
The stock can be folded. If you pull the small lever on the left side, you can even remove the buttstock completely for transportation and maintenance reasons. This is of course a unique and outstanding feature.
The version we are bringing to Germany is the most compact model. It has a 250 mm barrel. An integrated silencer ensures that the rifle is also nice and quiet when shooting. Don't assume the short barrel has an effect on the precision! After you've seen the video you'll know what I mean.
The magazine of this Edgun is also unique. It can be conveniently removed when the rifle is open. The drum magazine has a magnetic plate that protects the inserted diabolos or slugs from falling out.
Technical specifications of Edgun Leshiy 2
I wasn't exaggerating when I said that Edgun Leshiy 2 is a very special air rifle. The great predecessor model was consistently revised and therefore, Leshiy 2 was provided with the most outstanding features that air rifles have today.
Besides Huben K1, Leshiy 2 is the only air rifle I know of that has a hammerless design.
Hammerless means that the gun is subjected to less vibration when shooting. This increases the precision.
The gun has an 8-shot drum magazine. The shot frequency is solely limited by the speed of your index finger. Thanks to a large power plenum, you always have enough air available to ensure that the shots you fire are extremely consistent. This is also ensured by the outstandingly well-functioning regulator in Leshiy 2.
The air tank, regulator and power plenum are all located in the stock.
Two Picatinny rails allow the shooter to easily mount accessories. You can use the lower one for a bipod, the upper one is tilted forward by 30 MOA (0.5 degrees) and offers room for a scope.
The air tank can be filled with up to 300 bar of pressure. The filling port is at the end of the buttstock. Conveniently, unlike most air rifles, the pressure gauge is not on the front of the barrel, but also on the buttstock. This way, you don't always have to move your head in front of the barrel to check if the rifle still has enough pressure. From one filling you get about 120 shots.
The regulator of the F-version works with a pressure of approx. 78 bar. The regulator pressure of the international version is set higher and the rifle with the 9.84" (250 mm) barrel has at least 24 joules. The more powerful rifle can then shoot more high-grade slugs. I have tested this extensively over the last few months.
The safety of Leshiy 2 is easy to reach. It is placed directly above the trigger. It's a manual safety. That means you only have to deactivate it once and then you can fire your 8 shots very quickly.
The configuration options of Leshiy 2
The principle of Leshiy 2 is that many components of the rifle can be changed. You can equip it with a larger bottle to massively increase the number of shots. The 350-cc bottle increases the volume of air by 260cc. You can optionally order the carbon bottle directly from me.
But that is far from all.
You can order other grips etc. for your Leshiy from my partner www.edgunleshiy.shop.
But please be sure to note that in Germany it is mandatory to have an "F" on your air rifle. Only then you are allowed to purchase the air rifle from 18 years of age without needing a firearm certificate.
Just in case – Service in Germany
You know that service is extremely important to me. For years, I have tried every day to give you the best possible support in your hobby.
Therefore, it was extremely important to me to clarify who would be able to service and repair Leshiy 2 in the event of a potential problem.
So far, I haven't had any problems with my Leshiys in the last few months. However, if necessary, a fast and good service is important. Of course, first of all you contact your store www.jabolo.de. We will then forward the gun to our partner ahg Anschütz in case of a problem.
Your air rifle will then be repaired in Ulm, Germany.
My conclusion of Edgun Leshiy 2
You can see that I can't stop raving about it. I'm absolutely thrilled about my little Leshiy. It's just incredibly fun to put the rifle in a little bag, go to the range and really enjoy shooting.
The precision, the workmanship, the handling… everything is just perfect!
I'm also immensely pleased that Leshiy works best with AirGhandi's Finest.
Of course, the rifle is not cheap, but what you get for the money is simply outstanding.
If you want a recommendation for a rifle, just take a closer look at Leshiy 2.
I've made my decision on my favorite rifle.
How do you like the small rifle?
Thank you for your time!
See you next time.
Best wishes!
Yours, Andi
Interesting links:
HERE you will find Lehisy 2 in my online store (only available for purchase in Germany)! Leave your email address to be notified when it becomes available.
Do you already know the overview of all air rifles I have tested so far?
Do you know my international YouTube channel? HERE you can watch videos of more powerful air rifles in English! Best to subscribe now!