Review of Benjamin Maximus by AirGhandi! How does the cheap PCP air rifle perform? How precise is it and for whom is it suitable? I will answer all these questions in my review and video today.
Technical specifications of Benjamin Maximus
The Crosman air rifle is an unregulated PCP air rifle in the entry-level price segment. With a cylinder pressure of 138 bar, a total of about 60 good shots can be fired before it has to be refilled. The air rifle has no regulator, so the performance decreases as the pressure in the cylinder decreases.
Filling Benjamin Maximus is simple and comfortable. There is a Quickfill connector on the cylinder that allows the rifle to be quickly refilled to 138 bar with a few pump strokes or with a compressor.
The trigger is not adjustable and has a high trigger weight of about 3.52 lbs (1.6) kg. You can take a closer look at how this affects the shooting result in the video.
The rifle doesn't have a magazine. It is a classic single-shot air rifle. The loading opening is quite small with a length of about 0.39" (1 cm). With a little practice, however, you get used to it and can quickly place the pellets on the adapter.
Shooting Benjamin Maximus
I grabbed my Maximus and shot it on my Sport Quantum SQ10 at a distance of 10.9 yards (10 m). Today, for once, I'm not using my AirGhandi's Finest. When I tested some pellets in advance, the JSB Exact RS turned out to be the most accurate. This time, other pellets performed better than mine. Grrrrrr… 😉
I quickly got used to the rather high trigger weight. Usually, I'm pretty sensitive about that, but it didn't bother me at all that day. I quite like the whole shape of the rifle anyway. I really like the handling of it, except for loading the pellets. The low weight also allows for longer and comfortable sessions in a standing position. It is very well balanced.
Shooting itself is also enjoyable in terms of noise. Benjamin Maximus is also great to use indoors. The precision at 10.9 yards (10 m) was convincing. I have to say, I was actually really surprised and impressed. I have gotten far worse results with far more expensive air rifles. You can see it in my video later on.
My conclusion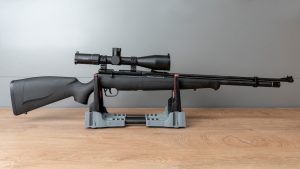 Any shooter who doesn't want to spend a lot of money on a PCP air rifle, but still expects high accuracy, will be pleased with Benjamin Maximus. Due to its low weight, it's also suitable for smaller shooters.
The low cylinder pressure of 138 bar is both a curse and a blessing. For one thing, this gives the rifle a range of just 60 shots. On the other hand, however, shooters who use a compressed air pump benefit extremely from it. Anyone who has ever pumped up a 200 bar or 300 bar air rifle knows how hard it gets, especially towards the end. With Benjamin Maximus, you don't have this problem.
I'm sure that this air rifle will find a large fan base. I think it's perfectly justified!
What do you think of the rifle? Can you think of any better alternatives in this price category?
I'm looking forward to your opinion.
Anyways, thank you again for your time.
Stay safe!
See you next time!
Yours, Andi
Interesting link:
HERE you can compare Benjamin Maximus with other air rifles.
This air rifle also needs care. How? Find out HERE.
Do you already know my international YouTube channel? HERE you will find videos of more powerful air rifles in English.