AirGhandi tests the Benjamin Trail NP Mark II air pistol!
Today is once again air pistol time! I'm testing for you a product made in USA by Crosman. We take a look at all the key data and test the pistol to be able to draw a conclusion at the end.
Technical specifications of Benjamin Trail NP Mark II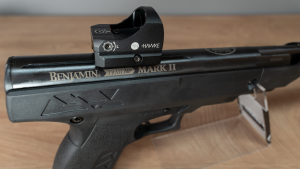 The air pistol draws its power from the "Nitro Piston" which gives the name the abbreviation "NP". This means that no spring is being tensioned while cocking, but rather the nitrogen, which is located in the piston, is being compressed. Therefore, the gun has a far reduced recoil compared to a spring-piston air pistol. The result is a pleasant shooting feeling.
The trigger is not adjustable and unfortunately doesn't have a distinct trigger pull. So, you have to practice quite a bit until you can shoot the pistol accurately. An optional reflex sight, which can be attached to the milled 11mm dovetail, could be helpful. I used one relatively quickly, as I struggled with aiming over the rounded front sight. Of course, I'm used to precision, that's why I want to try to get the most out of the guns in my tests. Maybe you'll do better with the open sights. I think that is also a matter of habit.
Shooting Trail NP Mark II
Benjamin Trail NP Mark II is quite heavy for a pistol. If you want to shoot it one-handed, you'll notice it in your arm sooner or later. I'm not that well trained and quickly realized that I needed to do more for myself. I therefore continued my shooting tests on a rest.
Pushing the barrel down is easy to do thanks to the supplied cocking aid. You don't need a lot of strength. You can then decide whether to leave the cocking aid attached or remove it when shooting. The cocking aid, of course, makes the front of the gun a bit heavier.
I personally find aiming quite difficult, as described above. My Hawke 3MOA reflex sight has served me well and helped me achieve far better results.
I think you have to shoot the pistol a lot to get the most out of it. Because the trigger also requires some training. Since there is no distinct trigger pull, you have to gain experience in order to know when the shot breaks.
My conclusion of Crosman Benjamin Trail NP Mark II
A lower recoil compared to a spring-piston air pistol and easy cocking thanks to the clip-on cocking aid are certainly the major advantages of this air pistol. In addition, it is pretty quiet and therefore suitable for attics and basements.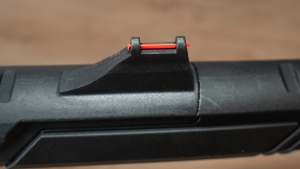 I think the rounded front sight makes it more difficult to get excellent results. As soon as I mounted a reflex sight, precise shots were a lot easier to achieve.
Crosman's wide range of different air pistols is now complemented by Benjamin Trail NP Mark II. Crosman really has something in store for every shooter.
Which type do you prefer? CO2, spring piston, pneumatic or compressed air?
I'm looking forward to your feedback!
How did you like this test?
Thank you for your time!
See you next time!
Yours, Andi
Interesting links:
You can get an overview of all air pistols tested so far HERE.
Do you already know my international YouTube channel? HERE you will find videos of more powerful air rifles in English.