Today I'm excited to show you the Dan Wesson 715 6″ revolver. A beautiful revolver!
Where does the name Dan Wesson 715 come from?
Daniel B. Wesson I founded the well-known company Smith & Wesson together with Horace Smith in 1859. His great-grandson Daniel B. Wesson II then founded Dan Wesson Firearms in 1963. There, the prototype of our replica Dan Wesson 715 6″ was produced in the period from 1975 to 1989.
Technical features of Dan Wesson 715
The revolver is manufactured by the company ASG. I have reviewed several products from this manufacturer recently. This is a CO2 revolver that can be shot with 4.5 mm (.177) caliber pellets.
The pellets are loaded individually into the six cartridge cases, and when the shot is released they fly through the 6″ long barrel.
Almost the entire revolver is made of full metal. Only the rear sight and the grip are made of plastic. The handle fits perfectly in the hand and the soft texture means that it doesn't slip.
If you remove one of the grip plates, the chamber for the CO2 cartridge is hidden underneath. On the inside of the grip plate there is a fold-out hexagon key with which the cartridge can then be tightened. Thus, the revolver then has pressure, and the shooting fun can begin.
The trigger is a double action trigger, which is quite heavy with a trigger weight of about 3 kg.
Shooting with the revolver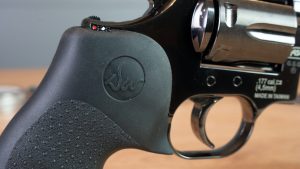 The high trigger weight makes it challenging to shoot. I had some good results before filming this video, but as you can see in the video, I didn't do so well in the shooting test on camera. I'll have to ask the experienced revolver shooters to show me how it's done.
The sight, i.e., the rear sight, is adjustable both laterally and in height. In the video, I used a RedDot. It can be attached to the revolver by means of an adapter.
When you load a CO2 cartridge, you have a little more than 60 rounds until the cartridge noticeably loses power and the hit pattern suffers. Then it's time to replace the cartridge.
My conclusion of Dan Wesson 715
Wow, it's a real gem. Just holding the revolver in my hand and looking at all the little features is even more fun than the shooting itself. The lettering, the high-quality cartridge cases, the drum, the barrel…. everything was made with so much effort and quality that it is just fun.
My shooting results in the video weren't the best. It has definitely more potential.
But do you even shoot the revolver that often? Or do you put it in a display case to look at it? What would you do?
Thank you for visiting my website!
See you next time!
Best wishes!
Yours, Andi