Diana two-forty is the successor of Diana 240. It was an extremely popular air rifle and had many fans around the world. I took a closer look at the rifle, which is produced in the Far East, and tested it for you.
This is Diana two-forty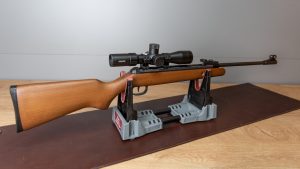 The small Diana is a spring-piston / break-barrel air rifle. It will especially be interesting for beginners and budget-conscious shooters. The beech stock allows both left- and right-handed shooters to comfortably operate and shoot the rifle. The automatic safety, which must be deactivated before each shot, is also convenient for all shooters to reach with their thumbs.
You can comfortably aim at targets via the fiberglass optics even in poor weather and light conditions. In addition, you have the option of attaching a scope to the 11 mm prism rail.
If you need some advice on the subject of rifle scopes, take a look HERE. I'm happy to help you.
The trigger is not adjustable. Unfortunately, it has no clear trigger pull which makes it difficult to shoot precisely.
With a price of 120 euros, the rifle is certainly directed to amateur shooters who like to punch a few cans. Anyone with higher ambitions will have to dig a little deeper into their pockets and choose a different rifle. HERE you can compare all the air rifles I've tested!
Shooting Diana two-forty
As already mentioned, the lack of a clear trigger pull makes it somewhat difficult to achieve proper results. However, the recoil is average which is of course an advantage for the shooter.
The rifle is quite light, which is an advantage for smaller shooters.
It requires a little strength to pull the barrel down. However, the actual cocking process then is easy to do.
Then, the pellet can easily be inserted, and the barrel can be folded shut again.
My conclusion
With Diana two-forty, the manufacturer Diana is clearly targeting price-conscious shooters, plinkers and beginners. I think there are many air rifle shooters who shoot the rifle without a scope using only the open sights. For about 120 euros, you get a rifle that is suitable to start with this hobby.
The energy of about 4 ft lb (5.5 joules) is enough to safely shoot at shorter and mid-range distances in the basement or attic without fear of causing too much damage. Anyone who wants to shoot at long distances should make sure to buy an air rifle with 5.5 ft lb (7.5 joules). (In Germany, 5.5 ft lb (7.5 joules) are allowed without needing a license.)
I hope you liked my review.
If you still have questions, requests, or suggestions, then please feel free to contact me.
Have a great day!
Best wishes!
Yours, Andi
Interesting link:
Do you already know my international YouTube channel? HERE you will find videos of more powerful air rifles in English.