For me, the fun of air rifle shooting depends on the targets you shoot at. Of course, it is also fun to shoot at regular 14×14 targets, but I can't do it very persistently.
For this reason, I have changed and extended my shooting stand over and over in the last years.
Which targets are especially fun?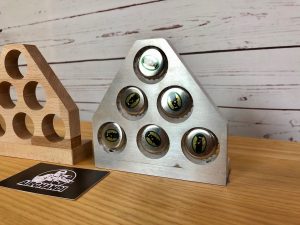 I like reactive targets. That is, targets that give "feedback" to the shooter when they get hit. This feedback can be completely variable. Sometimes something flips over, sometimes the target gives acoustic feedback. The important thing is that something happens.
Today I'm going to show you a target system that caught my eye. It's great for plinking and available in wood and aluminum.
It is 12 cm high and 12.5 cm wide.
There are small slits with magnets above each hole at the back. Those magnets hold the bottle caps which then hang freely in the milled hole. The shooting game has 6 holes for the bottle caps.
Now I finally have a use for my bottle caps again. Since I have the target, I  try to not bend the bottle cap when opening a bottle. I want to do that with my air rifle or air pistol.
How does the target respond to a hit?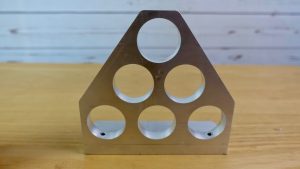 I recommend that you mount the target on your shooting stand. If the bottle cap is hit directly, it will fly out of the target at full speed on the back. If you hit the target and not the bottle cap, it will fall over. This happened to me. You can see on the two pictures which marks are left by hits that don't go into the holes. While the aluminum gets only slight dents, the wood splinters off a little bit. So, I like the aluminum target better. It's more durable, and somehow, I also find it cool to make some dents. Both the wood and aluminum targets don't cause any rebounds.
My conclusion of the bottle cap target
I really like this target, it is a great addition to my shooting stand. I just have to decide where to put all my targets. But variety is essential!
Thanks again for reading and have a nice day!
Best wishes!
Yours, Andi
Here you can buy the targets:
Wood target on Amazon
Aluminum target on Amazon
Wood target on eBay
Aluminum target on eBay
Interesting link:
Do you already know my international YouTube channel? HERE you will find videos of more powerful air rifles in English.