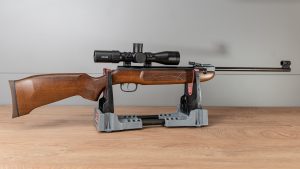 Weihrauch HW 30 S was my third air rifle I ever owned. At the time, I opted for the model without open sights and with a 1/2″ UNF thread. Today I'll show you the new 2020 model. I'm really excited to see how the air rifle performs.
The company Weihrauch Sport from Mellrichstadt in Germany has been manufacturing extremely high-quality air rifles for decades. A few days ago, I was asked in the comments on my YouTube channel what my favorite 5 Weihrauch air rifles were. Anyone who has been following my website for a while knows that for me HW 30 S is on one of the top positions.
But why?
That's Weihrauch HW 30 S
The small HW 30 S is a manageable air rifle with excellent handling. It is lightweight, compact, slim, and thus can be easily operated by younger or weaker shooters. Often you hear that it is a youth rifle. But I disagree with that. I'm 42 years old now and far from youthful. Nevertheless, I have a lot of fun with the small HW 30.
You can shoot the break-barrel air rifle for a long time without getting tired. It's lightweight and easy to cock. The breechblock holds the barrel in position when the rifle is closed.
For aiming, you can either use the front and rear sight or you can us a rifle scope. You simply have to remove the front sight tunnel and the fully adjustable rear sight. The scope is then mounted on the milled 11 mm prism rail.
If you ever need advice on rifle scopes, I'll be happy to help.
The stock
New to the 2020 version of Weihrauch HW 30 S is the stock. The buttstock has been given a new shape. I think it looks very modern. It significantly enhances the beech wood compared to the previous straight stock. In addition, the grip and forend have received a nice stippling.
For those of you who don't like to maintain your gun, there is also a black synthetic stock available. The version with the black synthetic stock is also cheaper.
Personally, I prefer wood. For regular readers, I don't think that's news anymore.
My conclusion of Weihrauch HW 30 S
The rifle is close to perfection. The ratio between mass and performance is excellent. You hardly notice the recoil when shooting and you can achieve good results quickly.
Of course, the rifle is a bit more compact than all other Weihrauch models. If you are quite tall like me, you have to come to terms with the compact stock. Personally, I don't mind having to do some bending for the small HW 30 S.
I think the new stock of the 2020 version is very well done. The new shape of the buttstock makes the rifle look sportier. I really like the stippling on the forend and grip.
You can see how impressed I am. Well, anyone who has known me for a while knows that I really like this small Weihrauch air rifle.
How do you like the stock of the new Weihrauch HW 30 S?
What are your favorite 3 air rifles from Weihrauch? I really want to know now!
Thank you again for visiting my site. Enjoy watching the video!
Best wishes!
Yours, Andi
Interesting links:
HERE you'll get a gun stock finish to maintain your wooden stocks.
And HERE you will get corrosion protection which will protect your air rifle from rust.
Do you already know my site where you can compare all reviewed air rifles?
Do you already know my international YouTube channel? HERE you will find videos of more powerful air rifles in English.