Today I'm at the shooting range with my Weihrauch HW30 S AGE!
I'm very lucky to get the latest and greatest air rifles and air pistols for testing. I'm informing myself about new products seven days a week. I watch videos on YouTube and read posts on relevant websites and forums, then find topics and products that I think you'd be interested in.
While permanently searching for new stuff, many old firearms are almost forgotten. Today I rummaged in my gun cabinets and will show you one of my favorite rifles again.
Why is it called Weihrauch HW30 S AGE?
How did I come up with the term "AGE"? After I changed Weihrauch HW30 S according to my wishes and ideas, I gave it the name "AirGhandi Edition" thus "AGE". I think such a unique air rifle deserves its own name.
There were times when I was so skilled with my HW30 that I could offhand hit a match at 32 yards (30 meters). However, that was at a time when I only had this air rifle and a lot of time. Unfortunately, those days are over. I'm not necessarily a bad shooter now, but I'm still a long way from my best form back then.
Nevertheless, I want to show you once again my HW30 S AGE. I want to see what is possible with this air rifle:
My conclusion of Weihrauch HW 30 S AGE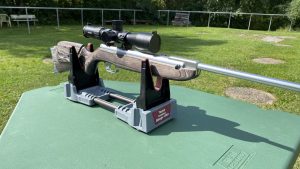 I don't want to make you jealous with my video. I want to give you some ideas on what you can do with your favorite air rifle. Especially the personalization of your own firearm makes you feel even more connected to it. By adjusting the stock, the handling can be improved, and it will fit even better to your own body. In addition, the shooting performance can be improved with various tuning options. I will share some great news on this topic towards the end of 2021. Stay tuned.
Weihrauch HW30 S continues to be one of my absolute favorite air rifles. It is already really good ex works. It became perfect, however, with the changes I made or that were made for me.
I hope you enjoyed my video and my post.
Have you ever customized a rifle?
What's your favorite air rifle?
Thank you for visiting my website!
Best wishes!
Yours, Andi
Interesting links:
You can read the review of Weihrauch HW30 S HERE.
HERE you find the manufacturer's site.
HERE you will find my own online shop jabololo.de. Have a look!
Do you already know my international YouTube channel? HERE you will find videos of more powerful air rifles in English.