The Weihrauch HW97 with the laminated stock was one of the first air rifles that stuck in my head when I started shooting many years ago. At that time, I lacked the money to buy it. I enviously read the Facebook posts of other users who were showing off this beautiful rifle there.
Of course, with air rifles, tastes are different! Just like with everything else. However, I've met very few people so far who don't like the special version of the HW97 with the laminated stock. Well, I wouldn't be deterred by it anyways. For me, the combination of the dark system and the bold blue wooden stock is simply eye-catching.
Now, first of all, some basic information about the air rifle.
Weihrauch HW97 witch a laminated stock
Weihrauch HW97 with its laminated stock is a special version of the incredibly well-known and popular Weihrauch HW97 that has been available for many years. A spring-piston air rifle with underlever cocking and a fixed barrel.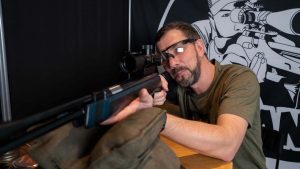 HW97 is so good that it has won many competitions and championships in modified versions! It's also the most shot air rifle in Germany in classes 2 and 4 in Field Target. HW97's outstanding accuracy, workmanship, and also market penetration make it the rifle of choice among many Hunter Field Target and Field Target shooters. There is so much knowledge, so many ideas, tips, and tricks on the market about the air rifle that you can get much more out of this rifle.
As of late, there is also a tuning trigger on the market again! The V-Mach tuning trigger was available for many years. Production ceased with the death of inventor Steve Pope a few years ago. Now the company AirJoe has teamed up with former employees of V-Mach and further developed some products from back then.
In addition to the tuning trigger, my store www.jabolo.de also offers tuning kits for, among others, Weihrauch HW97. They don't necessarily have to increase the power. It's more about improving the shot feeling and reducing the recoil.
You need a rifle scope
Unlike Weihrauch HW77, Weihrauch HW97 doesn't have open sights. If you want to use rear and front sights, you'll have to go for a HW77. HW97 has a higher cheek piece compared to HW77. This makes perfect sense since the line of sight is higher with a scope than when you shoot via open sights.
Of course, you can also find rifle scopes in my shop. If you don't know what to get and need some help, you can of course contact me. I'll be happy to help you.
My conclusion of HW97 with a laminated stock
To better understand my enthusiasm that I tried to express in this post, I highly recommend you watch my video. There you will see a shooting test that will convince you of the excellent performance:
What do you like?
Blue or not blue?
I really want to know!
Thank you for visiting my website and for reading my post.
See you next time!
Best wishes!
Yours, Andi