The air pistol Tell Modell 3 – a rarity presented by Florian!
Hallo dear readers!
Today I have a premiere for you! You are reading the first guest contribution. I had spoken with Florian a few months ago and he told me about a very rare air pistol that he owns and asked me for information about it. Unfortunately, I had absolutely no knowledge about it. He wanted to do some more research in forums and on the Internet. I found the topic so exciting that I asked him to summarize the results of his research.
Hallo, everyone,
not too long ago I sent an email to Andi asking him to take a look at my very old air pistol because I wanted to know more about this great gun. Unfortunately, he couldn't help me. However, since I couldn't find even one German website on the Internet, he asked me to write a guest contribution. And here we go:
Tell Modell 3 – an heirloom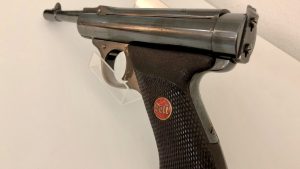 When I was a kid, I used to shoot air rifles and air pistols with my grandpa. And a few years ago, he inherited me an air pistol – a Tell Modell 3. Back then, I didn't know it was a rare air pistol. It was in my closet for many years and I only recently rediscovered it. So, I did some research on the Internet and found out a few things. But I only found information on American and British websites. I couldn't find anything on German sites.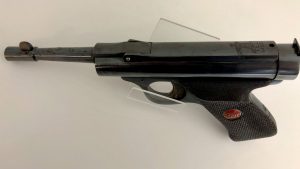 I have found the following information on American and British websites:
The air pistol Tell Modell 3 appeared probably as from 1938 (production period: approx. 1936 to 1940) produced by Venus-Waffenwerk, Zella-Mehlis in Thuringia.
The design of the gun is probably based on the Parabellum pistol, also called Luger.
According to various air rifle collector sites and American forums as well as the Blue Book of Airguns, probably no more than 1000 guns have been produced. The renowned Blue Book of Airguns speculates that maybe only 50 of these pistols are still preserved today.
A Swedish seller claimed that his pistol was marked with the number 1000, which would make it the highest known serial number. My pistol has the serial number 369.
One of the weaknesses of the pistol is the very fragile bakelite grip plates. I have seen some pictures of different Tell Modell 3 on the Internet and often the grip plates were broken. Fortunately, the grip plates of my pistol are in a perfect condition. And the other parts of my gun are also in a fairly good condition. And of course, it's fully functional. The pistol is absolutely sturdy, there is no wobbling or rattling at all. I would say it's precision work. Really fantastic.
The "holy grail" of air pistols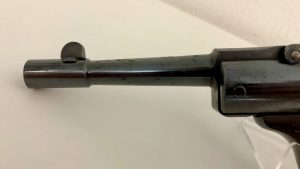 On an American website a collector was able to buy one of these air pistols. Here is the reaction of another collector to it:
"Congratulations on having a rare pistol! One of the holy grails of air pistol collecting!"
The holy grail (or at least one of them)… I can't believe it…
As I wrote above, I can't find anything about this rare air pistol on any German website. And everyone I've asked has unfortunately said that they don't know anything about this gun. That surprises me.
It would be interesting to know if anyone else in Germany has this gun. There is no way that all the remaining examples have gone abroad and I'm the only owner of a Tell Modell 3 in Germany. Or am I?
I'm looking forward to your comments.
Thanks again to AirGhandi for the opportunity to write a contribution here.
Best wishes from Munich
Florian
Technical data of Tell Modell 3:
Total length: 26 cm
Total height: 13 cm
Weight: 950 grams
Caliber: 4.5 pellets (.177)
What do you think about the idea of guest contributions? I don't want to pass on the work to others here, I just want to give others the opportunity to briefly introduce a special pistol or rifle.
Thank you for reading!
Best wishes!
Yours, Andi
Interesting links:
HERE you will find the air pistols I tested.
Do you already know my international YouTube channel? HERE you will find videos of more powerful air rifles in English.