An AirArms ProSport with an F-mark for the German market?
Sometimes you just have to be lucky. That's what happened to me in this situation I'm going to tell you now.
Personal tastes are quite different, as you know. This also applies to air guns.
I think, AirArms ProSport is one of the most beautiful air guns ever built. I saw it for the first time on YouTube and was absolutely blown away.
The walnut stock makes the gun look really classy. The lever is embedded in the stock and the barrel is connected directly with the system without an optical break. The stock with its raised cheek piece fits perfectly to the shooter's cheek. However, only to the right shooter's cheek. Apparently, about 100 left-handed stocks were produced, but to get one of these is practically impossible.
To get an AirArms ProSport with an F-mark is really rare (The F stands for frei / free and indicates that the muzzle energy doesn't exceed 7.5 J and the air gun can be owned by persons from the age of 18 years without needing a license in Germany). Many years ago, a dealer from Bochum imported a few models, rebuilt them and marked them with an F-mark. These models are still traded above the normal, but already very high price of the original model.
I once mentioned on one of my Facebook posts that the air gun is incredibly beautiful. Then I received an e-mail from Stephan that he still has a ProSport in great condition. He said he would give it to me.
Obviously, I didn't waste a second thinking about that. I immediately confirmed that I would like to have the air rifle.
What is AirArms ProSport?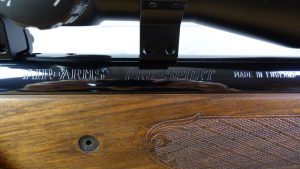 AirArms ProSport is a spring-loaded air gun, available with a beech or walnut stock, and is produced in England.
Why is it so expensive?
AirArms is setting the bar extremely high in terms of quality. All components are extremely high-class. Unlike many other air rifles, ProSport doesn't require any tuning or replacement of parts once you've purchased it. You get a perfect air rifle. The trigger is perfectly adjusted, the recoil is moderate, and the precision is outstanding.
There is a video by Steve Scialli of AEAC in which he tests numerous types of pellets. There you can see the excellent precision, even at long distances. I can only recommend the video.
Is AirArms ProSport suitable for competitions?
The required precision is easily achieved with the air rifle. Class 4 Hunter Field Target and Field Target is no problem. As long as you can cope with an air rifle without a hamster. It would be difficult or impossible to attach one to the stock. Although I must say that the attempt alone should be punishable. Drilling such a beautiful stock should be prohibited.
Cocking the air rifle requires a certain amount of effort over the course of 50 rounds, of course. Yet, this is exhausting with many air rifles. PCP shooters have it a lot easier.
Tuning possibilities of AirArms ProSport
Of course, you can tune the ProSport. You have to decide for yourself whether this makes sense and if you really want to change the look.
I personally think it's beautiful, so I don't want to change it for now.
However, you have the possibility to install a different trigger blade and an adjustable butt pad from Rowan Engineering from England. This should make shooting a bit more comfortable.
From Tinbum Tuning, also from England, there are various tuning kits for the spring. Among others, you can order a ShortStroke Kit, which reduces the stroke of the piston speeding up lock time and reducing hold sensitivity, as well as the Delrin spring guides.
I can't yet say to what extent reducing the stroke of the piston is necessary. I don't have any experience yet. But I am convinced that one day I will be able to provide it.
AirArms ProSport is very popular in England. It is a related model of AirArms TX200. It is very similar in construction but has an external lever. So, you have a solid stock at the bottom and therefore the possibility to attach a hamster. This could be interesting especially for competition shooters. The hamster ensures that the connection between air rifle and shooter is always at the same place. This gives you a little more freedom in holding the air rifle. I noticed right at the beginning that the rifle is very sensitive to holding. But I want to do some more tests until I finally decide.
Comparability with other air rifles
On which level is AirArms ProSport compared to other air rifles?
Technically, ProSport is on the same level as Weihrauch HW97 or Walther LGU. I have read in numerous articles that ProSport could be compared to Walther LGU in terms of technical specifications. The two rifles are quite similar.
It is incredibly difficult to say which one of the three air rifles is the best. I have had many tuned Weihrauch HW97 and Walther LGU in my hands. All of them shoot outstandingly well. Whereas Weihrauch HW97 was not so well suited for me. Walther LGU made it a lot easier for me. But that's definitely up to the shooter.
Optically the rifles of Walther and Weihrauch have no chance compared to AirArms in my opinion.
ProSport is well designed down to the last screw and the quality is extremely high. Of course, this is shows in the price.
My conclusion about AirArms ProSport
I can only give the air rifle an A with five stars. I've never been so excited about an air rifle before. I don't know if there is another air rifle that can fascinate me so much in every aspect. However, optics is an absolute matter of taste.
Thank you very much for reading!
I think with AirArms ProSport we have a nice finale for the air rifle year 2019!
Happy New Year to you and your loved ones!
Best wishes!
Yours, Andi
Interesting link:
Do you already know my international YouTube channel? HERE you will find videos of more powerful air rifles in English.