Today I'll show you Bada Bang Target. Apart from the choice of gun, having fun in shooting sports also depends on the right choice of the target. Let's see if Bada Bang Target is fun.
How every beginner starts
Most shooters start with just shooting at paper targets. But most shooters will then quickly feel the way I did back then. You collect all sorts of things always with the ulterior motive of using it as a target and breaking it. When my wife once again fills her Amazon wish list with all sorts of "practical things", then asks me for my opinion on one item or another, this has been my running gag for years: "I can use it to shoot and break it." 😉
Shooting is often not just about improving your skills and chasing the highest score. Sometimes everyone just enjoys plinking and just having fun.
For that reason, I regularly check all the online stores for new targets.
That's when Air Venturi's Bada Bang Target caught my eye in 2020. Now I've ordered the target to test it for you.
Testing Bada Bang Target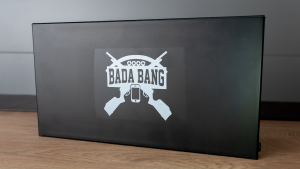 When I received the package with the target inside, I was surprised at first. Wow, that's heavy! That's a good thing. Especially when shooting metal with pellets, if the material is too light and thin, it is possible that something will bend, or something will break over time. However, with just over 7.36 lbs. (3.3 kg), Bada Bang Target is built very sturdily. It is even approved for up to 16 joules.
But you don't have to bombard the target with such strong outputs.
Bada Bang Target is even suitable for airsoft pistols and rifles as well as soft dart blasters.
It is also easy to transport. When you close the target, you can put it in the included bag for convenient transportation.
The game modes
There are two modes available, each of which can be done in single-player or multiplayer mode. The "Spooning" mode is about shooting the four targets as fast as possible. Once you have done that, the time is stopped. The respective record time is then saved in the app.
In the second mode, "Call'em", you are given the order of the targets to shoot at. Then you can shoot them one after the other. Here, too, the best time is then recorded and saved.
You can select a target distance of 5, 7 or 10 yards. Unfortunately, the range of the target is tied to the range of the Bluetooth transmission. If you place the target too far away, Bada Bang Target is no longer paired with your smartphone. To pair the two devices, you need the free Bada Bang app which is available in the stores for Android and iOS.
I don't know if there will be more games or an app update in the future.
My conclusion of Bada Bang Target
A nice change for at home! Anyone who wants to spice up their shooting range and is looking for an exciting target can consider buying Bada Bang Target. Especially shooters who shoot with an air gun as well as an airsoft gun will benefit from the target. Because there are not too many targets that can be used by both.
It is very sturdily built, and I had no problems with the target or the software during my tests.
I'm curious if there will be any future updates to the software, that is, if more shooting modes will be added.
Now have fun with my video:
What are your favorite targets? Do you shoot at paper targets or have you even built your own targets?
I'm looking forward to your feedback!
See you next time!
Yours, Andi
Technical specifications of Bada Bang Target:
Size: 12.99 x 7.08 x 2.75" (33 x 18 x 7 cm)
Weight: 7.36 lbs. (3.34 kg)
Diameter folding target: 1.77" (4.5 cm)
Powered by 3x Mignon batteries (AA)
Interesting links:
HERE you can read more about my weapon care products!
HERE you will find my own online shop jabololo.de. Have a look!
Do you already know my international YouTube channel? HERE you will find videos of more powerful air rifles in English.