Today I'm going to test Bo Quantico for you. It's a low-priced spring-loaded air rifle suitable for plinkers, beginners and smart spenders.
Technical specifications of Bo Quantico
The break-barrel air rifle generates its power via its spring. I measured about 9 joules in my chrony test. Is this even allowed?
Yes! The air rifle has a F-mark, and nothing has been changed on it. In other words, it is approved this way. The F stands for frei / free and indicates that the muzzle energy doesn't exceed 7.5 J and the air gun can be owned by persons from the age of 18 years without needing a license in Germany. I think they probably used harder pellets than I had on my test. They came out of the barrel more slowly. So, if you buy the air rifle, you don't have to worry. Everything is legal and in compliance.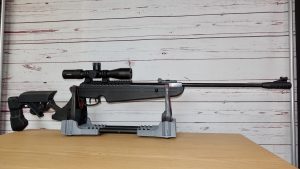 The safety must be deactivated before pulling the trigger. It's a manual safety and is located directly in front of the trigger blade. If you push the safety forward once, it is deactivated. You don't have to unlock it before each shot.
Unfortunately, the trigger has no recognizable trigger pull. It's quite difficult to estimate when exactly the shot will break. I suppose that this is the main reason for the average shot result I got in my test. I measured the trigger weight of 26.4 to 28.6 lbs (1.2 to 1.3 kg).
The stock
In my opinion, the highlight is the stock. It can be adjusted very easily and flexibly. The stock can be adjusted in length and the butt plate and cheek piece can be adjusted in height. This allows for an individual configuration for each shooter. Of course, you can also optimize it for shooting using the rear sight and front sight or a scope. All of the above adjustments can be made without tools.
The stock is made of robust plastic and can withstand one or two rain showers. At some places, the processing is a bit faulty. It's not flawless and there are some edges here and there.
Target detection of Bo Quantico
The open sight offers a nice contrast. Thanks to the fiberglass, it can also be used in poor light conditions. The 21 mm prism rail, which is located on the top, is made of plastic. You can attach a scope to it.
My conclusion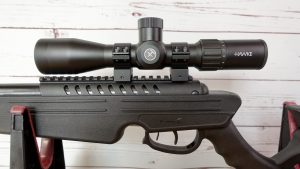 If you want to spend little money and are looking for a rifle to plink, Bo Quantico is worth a closer look. The high flexibility when adjusting the stock makes this air rifle interesting for small and tall shooters alike.
If you can overlook all that plastic and don't want to have a flawless stock, then Bo Quantico is an option.
If you have other requirements, you should look for another air rifle HERE in my list.
Thank you for reading and I wish you a great week!
Best wishes!
Yours, Andi
Interesting link:
Do you already know my international YouTube channel? HERE you will find videos of more powerful air rifles in English.