The preparation
Diana Bandit – After many expensive high-quality air rifles, it was time again to test something for the smaller budget.
After doing some research, Diana Bandit pretty much stood out. The specifications found on the manufacturer's website and the very low retail price quickly made me curious.
Does Diana Bandit deliver what it promises and what I hope for?
I quickly ordered one and then also got it delivered without waiting too long. Thanks to Aleks from www.getdamaged.de.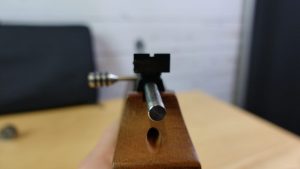 Opening the outer box already revealed the first positive point. The air pistol comes in a nice synthetic fiber bag which is padded inside. This provides the possibility to transport the air pistol. The bag protects well from mechanical damage. However, should you need a waterproof cover, you would have to resort to a transport case.
I then took the gun out of its bag. Wow, feels great in the hand! Ok, the wood is not exactly an eye-catcher, but hey… 159 euros for a 9-shot compressed air pistol? You HAVE to save somewhere to be able to offer it at such a low price.
The video about Diana Bandit
The air pistol doesn't have a regulator. This is the reason why I didn't include a chrono test in my video. Since the muzzle velocity decreases with decreasing cartridge pressure, I wouldn't know at what point to do the chrono test. We'll just take a closer look at the shot test and see how and if the absence of the regulator affects the shot pattern.
Now let's take a closer look at the air pistol and test how precise the model is.
I wish you a lot of fun with my video!
Yours, Andi
Interesting link:
Do you already know my international YouTube channel? HERE you will find videos of more powerful air rifles in English.