Today I test for you Scuba Ringer. The company GoGun kindly sent it to me and sponsored my work on it. I will show you the harpoon device and how it works in this post and in the video.
Technical specifications of Scuba Ringer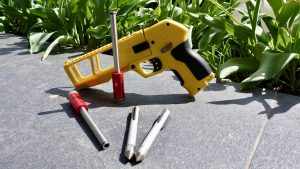 The harpoon device is made of yellow plastic. This makes it very easy to recognize under water. Ideally, however, it should first be loaded on land. For this purpose, a pressure of 250 bar is applied to the compressed air cartridge using a pump, compressor or tank. The arrow holders are screwed onto the cartridge. As soon as this is done, the arrow can be loaded. Scuba Ringer has room for two arrows which can be fired one after the other.
When the firing pin hits the cartridge, the complete pressure is discharged into the arrow holder. The arrow placed above it shoots forward out of the pistol.
The intended use
Scuba Ringer is used under water. In places where it is permitted, fish can be hunted. Scuba Ringer can also be used for shark defense. I hope you will never need it for that.
In the operating instructions it is recommended to familiarize yourself with the harpoon device before your first dive. After all, you do not want to experience any surprises under water. You will notice that Scuba Ringer is also working above the water. I have to admit, it's fun to shoot through different materials with it. It has awoken my play instinct to shoot something and break it.
When I told my wife about it, she asked me if I was ever going to grow up. As long as I have Scuba Ringer, my answer is clearly: NO!
Since I usually only shoot with air rifles, I'm not used to this power. Unfortunately, I couldn't measure it. But I read that it is more than 70 joules.
Take a look at my video and tell me what you think of the device.
Do I need Scuba Ringer? No.
Is it fun? OH YES 😀
I'll be more mature next time. I'll promise you.
Thank you for reading. Please stay healthy.
Best wishes
Yours, Andi.
Interesting links:
Another product I have tested in my category "Other weapons" is Cobra Adder!
Do you already know my international YouTube channel? HERE you will find videos of more powerful air rifles in English.