At the end of May 2020, I was back in Ehringshausen to have a look at the new Rink Formgriffe shoulder stocks. Thomas Rink showed me the production, and I wanted to see the advantages of shoulder stocks for myself.
In the workshop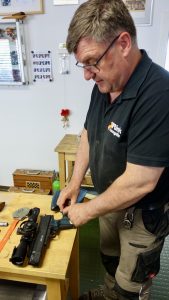 I arrived at Thomas' at 9 in the morning. When I visited him the last time, we had a lot of fun together which resulted in an exciting and extremely popular video. Back then, Thomas made me a custom-made grip for a Steyr LP50RF. Today he shows me something really innovative and that is still rather new in Germany. The Federation of German Marksmen has recently introduced a discipline for small caliber pistols with a shoulder stock. In other countries such as the USA, for example, this is already quite popular.
I had the opportunity to have a look at Thomas' already finished models for various pistols. Besides the stock for Weihrauch HW45, I noticed the one for Diana LP8 right at the beginning. I knew the other pistols on the table, but I couldn't have named them right away. But in my video, which you can see below, Thomas tells us something about each pistol.
The manufacturing of shoulder stocks
In the workshop, I was able to see how the programmed milling machine milled the outer part of a stock. A saw then cut out the shoulder rest. As a complete layman, this was exciting for me to watch. I saw how the stock for Lutz Krüger's Weihrauch HW45 Target was manufactured. Thomas showed me on his PC how much programming and work is necessary to produce the shoulder stocks. I was familiar with some of this from the day we built my pistol grip, but it was no less impressive than it was back then. Then we went shooting!
At the gun range
I can hardly deny it and I bet you wouldn't feel any different, but the highlight of the day was waiting for me at the gun range. I have already tested a Diana LP8 for a review. If you want, you can have a look at the shooting results again. But what I was able to achieve on the gun range with the pistol at distances of 17 m and a target of 2.5 cm was insane. Was that really the same pistol? You can barely imagine how much more accurate it is with a shoulder stock. Or maybe you can imagine, but I couldn't. The guns are unbelievably comfortable, like a light-weight rifle.
In the video you can see us with the pistols in action. I think it's worth watching. I clearly underestimated the potential.
AirGhandi shoots a small caliber with a shoulder stock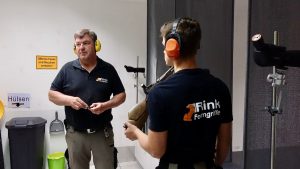 The last shooting location was in a clubhouse to shoot two small caliber pistols with a shoulder stock at 25 m on folding targets. I'm not used to small caliber. After I fired 10 shots, I coped surprisingly well with this combination. I think the last part of the video is pretty funny. For some reason I was just grinning like a little kid the whole time. And in the end, I even hit something.
My conclusion
What can I say? Fun, fun, fun. I just can't think of anything else to say. What's bugging me the most is the fact that I have to explain to my wife why I have to spend money again. To buy another air pistol. Yes… I am planning to buy a Weihrauch HW45 Target in 5.5 mm caliber with a Rink Formgriffe shoulder stock. Why? Because it's fun!
Today I strongly recommend you watch the video. Putting all of this into words is just too much. The video is pretty long. But I promise you that you will definitely not get bored!
I'm looking forward to your opinion! Are shoulder stocks interesting for you?
Stay healthy!
Best wishes
Yours, Andi
Interesting links:
Website of Rink Formgriffe!
Do you already know my international YouTube channel? HERE you will find videos of more powerful air rifles in English.