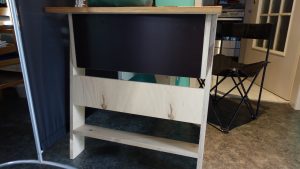 I've received several questions about my shooting table in the last weeks. Of course, I'm happy to answer every question, but if so many readers are interested, it's worth to take up the topic and present you some pictures and information about my shooting table.
Why do you need a shooting table?
It is recommended to purchase a shooting table not only for benchrest shooting but also for shooting rifles as well as for relaxed plinking. A shooting table offers a stable base for your air gun. You can place a gun rest on it. It offers many advantages, especially for testig the precision or sighting in a rifle.
It prevents shaking the rifle which would otherwise happen when holding it. This is especially important for precisely sighting in a rifle scope.
What types of shooting tables are there?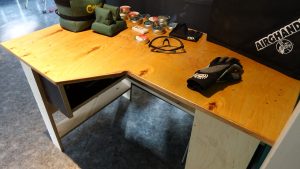 During my research at that time, I've seen many different shooting tables. They are available for left-handed shooters and right-handed shooters. If you are the only shooter using the table, it is recommended to choose one that has the body cutout only on the side you need. This way you have more space and can place accessories, ammunition etc. on the table.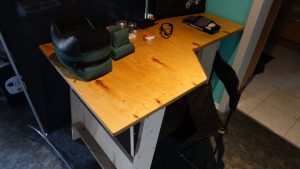 Then there is also a distinction between static and mobile tables. In this video you can see my mobile shooting table. A carpenter had cut the tabletop according to my specifications. It was then mounted on scaffolding legs. The table can be easily collapsed und a has a hole in the top to carry it. Before I decided on the size of the tabletop, I took the measurements of my car boot. Of course, it had to fit in there.
The table is great to use when I'm on the shooting range, but I wanted to have something more robust for at home. An extremely sturdy table that holds my body when I'm leaning on it while shooting. Additionally, I wanted storage space under the table for tools, cleaning utensils, pellets as well as a bottle of water.
My static shooting table
When I told a buddy about it, he came up with some ideas. As loyal readers of my blog, as well as viewers of my YouTube videos already know, I'm a realy bad craftsman. So, my buddy offered to build me a table for my needs. I could only tell him what the shooting table should offer, but not how to build it. We then determined my seat height and the required tabletop size. With those measurements, he started to build the table.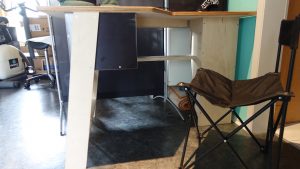 A day later, my doorbell rang. Andi appeared at my door with a small transporter. "Come out here, you have to help me carry" he called to me. A little perplexed I went to his car and could not believe my eyes. He had already built my complete table the evening before and in the morning. We carried it up to my attic and put it there.
What could be done better?
There is really nothing that I would change even after a year of intensive use. I love to just do 30 to 50 shots with one of my guns in the evening after work. The table doesn't wobble, and I have everything I need within reach for a comfortable shooting evening.
Technical data of my shooting table:
Length tabletop: 115 cm
Width tabletop: 70 / 49 cm
Table height: 76 cm
I hope you guys were able to get some inspiration. Maybe you have more ideas or maybe I've forgotten something I haven't thought of yet.
Write it down in the comments!
Thank you for reading!
Best wishes
Yours, Andi
Interesting link:
Do you already know my international YouTube channel? HERE you will find videos of more powerful air rifles in English.