Weihrauch HW44 – an air pistol made in Germany.
Is it worth buying, how accurate is the air pistol and how is the handling? I will try to answer all these questions for you today.
Specifications of Weihrauch HW44
Weihrauch HW44 is a compressed air gun that works with a cartridge pressure of up to 200 bar. If we take a look at the F version, that is, the version of the pistol with a maximum power of 7.5 joules, the cartridge has an excellent range of 105 shots. The drum magazine, of which two are included, holds a total of 10 rounds in .177 (4.5 mm) caliber. Therefore, 10 complete magazines can be fired before the 50-cc compressed air cartridge has to be refilled.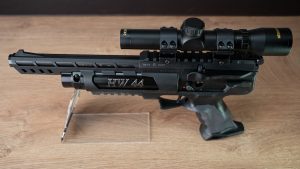 Filling the cartridge is done easily via the Quickfill connector. If you already have a compressed air rifle from Weihrauch, such as a HW100 or HW110, you can use the Quickfill adapter from these rifles. Weihrauch conveniently uses their proven connector.
As you would expect, HW44 has a regulator installed. This means that the performance remains constant throughout all 105 shots. You can see the exact figures on the constancy in my video.
Shooting Weihrauch HW44
Left- and right-handed shooters will both enjoy this air pistol. It can be used ambidextrously. The bolt handle can be ordered on the other side for left-handed shooters.
The futuristically shaped handle fits perfectly in the hand. It's also slip-resistant due to a special rubber coating.
Weihrauch HW44 has a manual safety device. Once it has been deactivated, 10 shots can be fired one after the other with cocking in between. Cocking is extremely smooth and can be done without any effort.
The trigger is excellent. It's a perfectly adjusted two-stage match trigger. I have had the gun for weeks now and have not seen a need to adjust anything on it. It's very smooth-running and there is a very clear trigger pull.
It's just extremely fun to shoot with HW44. Everything is so smooth-running, precisely built, and feels so well thought out. You can just tell that Weihrauch puts a lot of thought into details before launching a product. The system has no recoil.
I hope that Weihrauch Sport will continue to follow its current philosophy in the future and focus on the highest quality and maximum shooter benefit. You can simply rely on the fact that when you buy an Weihrauch product, that it is simply worth its price.
Mounting accessories to Weihrauch HW44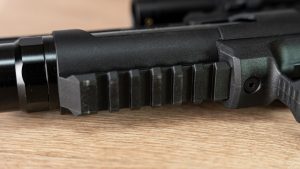 HW44 offers possibilities to attach accessories. A scope or reflex sight can be attached to the upper Picatinny rail. But you don't necessarily have to attach optics. The air pistol has open sights consisting of rear sight and front sight. That's enough to aim at the target.
On the lower Picatinny rail, you have the possibility to mount a dummy flashlight or a bipod. You are completely free when it comes to designing your own air pistol. However, please comply with applicable laws when attaching accessories. Flashlights and laser pointers etc. are prohibited in Germany. Our shooting friends from Austria, for example, have to do without a silencer.
HW44 uses a silencer made specifically for this pistol. You need to consider this before the purchase.
My conclusion
Mine!
My conclusion of Weihrauch HW44 is quite simple. I will keep it. Why? I think I was able to explain that pretty well in this post.
I think everything is absolutely perfect here: Precision, consistency, material, workmanship, weight, shooting experience, flexibility.
The pistol is fun – whether you shoot it one-handed or two-handed, on a gun rest or without a gun rest… yes, I'll even try shooting it with a shoulder stock. With a bipod, silencer and then with a rifle scope. Why? Simply because you can.
I can rave about it for even longer… or you can just watch my video and experience the pistol live and in 4K resolution.
Do you have an air pistol?
Do you already know my overview? HERE you can compare all the air pistoles I've tested!
Thank you very much for your interest and time. I'm looking forward to your feedback.
Stay safe!
Yours, Andi
Interesting links:
Do you know the AirGhandi Fan Shop at www.action-shop24.de? There you will get all my products. I would be happy if you do something good for your rifle or pistol!
Do you already know my international YouTube channel? HERE you will find videos of more powerful air rifles in English.