Finally testing Weihrauch HW 50 S!
I've had the air rifle on my radar for a long time. For years I have been hearing a lot of positive things and requests that I should finally do a review of HW 50 S. Many readers and viewers have already considered the rifle as an option but are not quite sure whether to spend the money. With my post and video today, I'll try to give you answers to all your questions. Let's start…
Material and workmanship of Weihrauch HW 50 S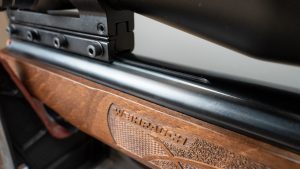 As you would hardly expect otherwise, Weihrauch HW 50 S is of excellent quality. As soon as you take the rifle out of the box, you quickly realize that you have chosen high quality by buying it. The system and barrel are nicely burnished, the beech wood of the stock is processed without any flaws and nicely oiled. Here's my first tip for you: to keep it that way, get yourself some corrosion protection and stock finish. If you use it to maintain your HW 50 S, the rifle will outlive you and still look great.
The trigger
As with almost all of the other high-quality Weihrauch spring-piston air rifles, HW 50 S also uses the match trigger Rekord. The trigger is an absolute quality feature. If you ever think about buying a Weihrauch air rifle, make sure that it has the Weihrauch match trigger Rekord.
If you want to shoot accurately, the trigger is so incredibly important that, in my opinion, you should make sure it's good even on an amateur air rifle. If you spend 50 Euros more for your first air rifle, I can guarantee that you will have much more fun with the hobby. Of course, we all have to keep an eye on our spending. But I'm sure if you listen to my advice, you won't regret your decision.
Shooting Weihrauch HW 50 S
Once you've fired the first few shots with HW 50 S, you immediately realize that you've got a great air rifle in your hands. The proportions, balance and feel of Weihrauch HW 50 S flatter the shooter.
The recoil, which I would classify as medium, doesn't pose the greatest challenges to the shooter.
Cocking the rifle goes very smoothly. Nothing scratches or rubs. Should the joint ever get a little rough, you can add a small drop of gun lubricating oil and everything will run smoothly again.
All in all, it really needs to be said that shooting with HW 50 S is very enjoyable and comfortable.
My conclusion of Weihrauch HW 50 S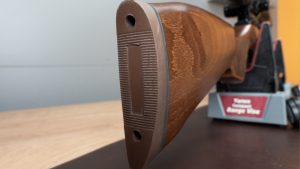 Weihrauch HW50 S is a rifle that appeals to quality-conscious shooters. Anyone who finds Weihrauch HW30S too small, but HW 35 a bit too big and heavy, should take a closer look at HW 50 S. To me, this is the perfect mix of the two extremely popular air rifles.
If you watch the video, you can see how consistent and accurate the air rifle is. You don't have to sacrifice anything here either.
I enjoyed the test very much. Anyone who has not yet had the pleasure should make sure to get their hands on this model.
Have you ever shot Weihrauch HW 50 S?
What's your favorite air rifle? I'm really curious!
Thank you for reading!
Best wishes!
Yours, Andi
Interesting link:
Do you already know my international YouTube channel? HERE you will find videos of more powerful air rifles in English.