Weihrauch HW50 S at the shooting range! How will the air rifle perform? And how good is the precision?
That's what I want to find out today. Above all, however, I would like to entertain you with my video.
The setup of Weihrauch HW50 S
Of course, I did a shooting test in my review of Weihrauch HW50 S as well. At that time, the air rifle – as could be expected – performed excellently. However, I was only able to test it at the short distance available to me.
Today I have put together a setup which you can order directly in my webshop soon.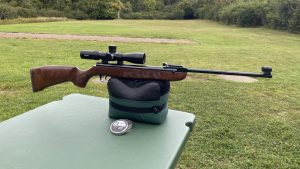 I'm using a Hawke Airmax 30 SF Compact 3-12×40. An excellent riflescope that stands out not only because of its compact dimensions. The coating on the lenses, the 30mm center tube, the fine AMX reticle and the precise adjustability of the parallax via the side wheel provide the shooter with an excellent riflescope. And if it is late in the evening or you are shooting at dusk, you can also illuminate the reticle in different brightness levels.
I mounted the glass with a Sportsmatch UK TO35C mount. I use SportsMatch UK mounts on all my rifles. They are a bit more expensive than average, but the material and processing quality are excellent reasons for that. In addition, the mounts have a 10-year manufacturer's warranty.
I used my AirGhand's Finest pellets.
The targets
Today I shoot at everything that is fun. From empty shotgun shells to metal pendulum targets. The great thing about those targets is that you get a feedback whenever you hit something. The shotgun shells sometimes fly several meters away and make a loud noise. Those shells will last forever if you fire at them with no more than 7.5 joules. If you have a choice, then signal colors of the shells are recommended. You will find them a lot faster.
The setup of Weihrauch HW50 S
The rifle shoots really great. When cocking, you have to occasionally give it a light slap on the barrel or cock it over your leg. I think once the rifle has been used a bit and has gone through a few hundred rounds, the amount of strength you need will be a bit less.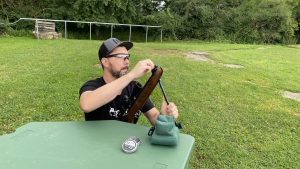 Tensioning the spring itself requires very little effort. Once the barrel is cocked and locked in place, for safety reasons you should still hold it while loading pellets. The likelihood of injury is extremely low, but photos of fingers that have been pinched keep appearing on the Internet. You don't necessarily want that.
Flat, pointed or round-headed pellets can then be loaded into the barrel. Personally, I use almost exclusively round-head pellets. Flat heads have the characteristic that they may start spinning at a distance of 10-11 yards. Round heads have a much more stable trajectory.
Returning the barrel then works without any effort.
Now you just need to disable the automatic safety. Then you can release the shot by pulling the trigger. Weihrauch HW50 S then has a medium recoil. The spring rattles a little afterwards.
Soon there will be the possibility to improve the shooting experience of this, but also many other Weihrauch air rifles. I have the great opportunity to offer outstanding high-quality tuning kits (no performance tuning!!) through my webshop. These will further improve the precision and shooting experience.
Conclusion of my day at the shooting range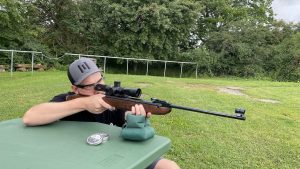 I have to admit that it is almost too easy to shoot the targets with this setup at 18m. Ok, I missed once, but I think next time I'll put the targets 5-10 yards further away.
It's extremely fun to shoot with HW50 S. The handling is great, and the rifle is also pretty light for long shooting sessions.
Well, I really had fun today.
How do you like Weihrauch HW50 S?
Have you ever had the opportunity to shoot a Weihrauch spring-piston air rifle?
Thank you for visiting my site!
Best wishes!
Yours, Andi
Interesting links:
You can find the review of Weihrauch HW50 S HERE.
Do you already know the comparison between all air rifles I tested so far?
HERE you will find my own online shop jabololo.de. Have a look!
Do you already know my international YouTube channel? HERE you will find videos of more powerful air rifles in English.