Diana 30 Neo is here! It's finally available!
Fair fans had to wait decades for the successor to the legendary Diana 30. A rifle that has always delighted fans of shooting galleries and continues to do so to this day. But now there is a successor to the aging rifle. By "aging" I don't mean that the technology of the rifles was or is bad. Rather the fact that the rifles have been subjected to the hard continuous use of fairgoers for decades.
In 2018, the Oktoberfest rifle from Diana was launched. Of course, I made a video about it. However, as the price suggests, this is a rifle for private and not commercial use.
Now Diana has released 30 Neo and I have tested it for you!
Technical specifications of Diana 30 Neo
Diana 30 Neo is a spring-piston air rifle that shoots copper-plated lead BBs in caliber .173 (4.4 mm). By means of the cocking lever, the next ball is pressed into the extremely high-quality Lothar Walther barrel.
The lever is on the top of the system. If it's tilted to the right, the safety of the rifle is deactivated. Then the shot can be fired.
A total of 120 BBs can be filled into the ammunition chamber with the included funnel. Optionally, you can purchase a refill aid. It holds a total of 1500 BBs which can be conveniently loaded into Diana 30 Neo by means of a rotating mechanism.
If you then load the next BB into the barrel of 30 Neo, it's important that the muzzle of the rifle is pointing vertically or at a maximum angle of 45 degrees upwards.
It's apparent that this is a rifle for the most demanding use. All components are manufactured to an extremely high standard. Diana 30 Neo's clamping mechanism is precisely CNC milled.
The trigger of Diana 30 Neo
The trigger is of high quality and fully adjustable. With a 1.5mm hex key, you can adjust the first stage travel, pull-off, and trigger weight.
In my trigger test, I measured the preset trigger weight at 12 oz (341 grams). To me, the technology seems to be based on Diana's extremely popular T06 trigger which is one of the best you can have in your rifle in the recreational range.
Shooting with Diana 30 Neo
At the shooting gallery, of course, you aim via the front and rear sight. Diana 30 Neo has a few special features here. In fact, the rear sight and the front sight of the bolt action air rifle are both adjustable. This is extremely rare for air rifles.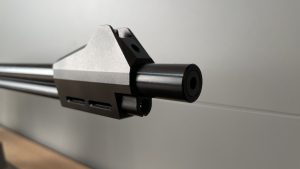 The front sight can be adjusted in height by turning it. Meaning, if your grouping is too low or too high, you can readjust it on the front sight. To do this, you have to turn it 360 degrees.
The rear sight can only be adjusted laterally. Here you can correct an unwanted lateral deviation.
The rear sight and front sight are each secured by a screw, which you must loosen before adjusting.
The rifle is basically designed to be used at the shooting gallery. This means that the shooting distance is normally about 10 ft (3 m).
The stock
The stock of Diana 30 Neo is of remarkably high quality and precise workmanship. It is smooth and has no checkering.
With the rubberized buttplate, the stock rests against the shooter's shoulder.
A counter is embedded in the side of the stock, just like Diana 30 at the time. It can be reset on the bottom of the barrel by turning it clockwise using the included key. It is important that resetting is only performed when the rifle isn't cocked.
Maintenance of Diana 30 Neo
The fact that Diana 30 Neo, just like its legendary predecessor, is built to last forever is evident from the enclosed maintenance manual. It explains how to replace expendable parts yourself and how to maintain the rifle. I haven't had that with any other air rifle in this form in recent years.
Of course, a rifle that is practically in constant use at a fair requires maintenance and care. Diana recommends maintenance every 15k-20k shots.
I also highly recommend that you take care of the browning. Be sure to remove fingerprints from the browning after shooting. This will protect your rifle from flash rust that would otherwise eventually appear. If you are going to put the rifle in the cabinet for a longer period of time, then I recommend corrosion protection. It will protect the metal parts of the rifle from rusting for months and years.
My conclusion
Recently I was on vacation with my family at the Baltic Sea. There I won a stuffed animal for my son at a fair. When you're standing at the shooting gallery, you realize again how much fun it is to shoot different targets with a bolt action rifle.
Of course, you rarely shoot paper targets with such a rifle. Reactive targets are especially fun. So, I can recommend anything that falls over, flies away, or breaks. Here you can be creative and see what you no longer need around the house.
Diana 30 Neo appears to be of extremely high quality. I must have fired over 1000 rounds during the test period and haven't had a single problem during that time.
Every shooting gallery fan can rejoice that there is finally a rifle again with which they can have fun on their private shooting gallery for the next decades.
Of course, Diana 30 Neo isn't cheap. But quality made in Germany simply costs its price.
You can get the rifle from my partner at www.action-sop24.de!
How do you like Diana 30 Neo?
Do you like shooting at the shooting gallery?
I'm looking forward to your feedback!
Thanks for reading!
See you next week!
Yours, Andi