I'm taking a close look at Diana 34 EMS today. I first read about the new air rifle system about a year ago. I write system because in the future you can assemble the rifle according to your own preferences. The EMS in the name stands for Easy Modular System and is based on the Diana 34 air rifle which is very well known worldwide. Now, however, let's take it one step at a time.
Configuration of Diana 34 EMS
Especially for indecisive shooters, Diana 34 EMS is a blessing. If you're new to air rifles or just can't decide which configuration of air rifle you like best, the new edition of Diana 34 is the right choice.
I got my test rifle in the following configuration: Caliber .177 (4.5 mm), wooden stock, fiber optic sights with a spring. Those are the components which offer different options to choose from.
Instead of the fiber optic rear sight, there is also the option to choose to have the barrel end without an open sight or with a metal front sight and front sight tunnel. Personally, I like the metal front sight and the front sight tunnel the best. But that's a matter of taste.
The barrel itself is available in caliber .177 (4.5) and .22 (5.5) mm. For the stock, you can choose between plastic and beech wood. The barrel has a 1/2" UNF thread on the end to which a silencer or compensator can be attached. Changing the barrel is not difficult at all. You remove one screw and then you can pull the barrel forward out of the system. You can't accidentally install it the wrong way, as it has a flat side in the profile that needs to be placed in the designated position.
In addition to the spring, there is also the possibility of installing a NTEC gas spring as a drive for the pellets.
Diana's NTEC system is already used in many other air rifles and has proven itself in recent years. I have an NTEC gas pressure system in my Diana 340 NTEC, and I'm extremely satisfied with it.
Shooting Diana 34 EMS
Of course, what you're all interested in is the question: How does the Diana air rifle perform? I can already say in advance that I was quite pleased after all my training sessions and also the shooting test in the video. In some trainings I was a little bit better than in the video, but I think it's informative enough and I promised anyway that the shooting tests won't be repeated until it was good enough. I just record it and show you the results.
I believe the following aspects led to the good shooting result: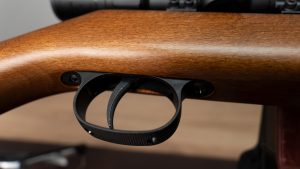 Diana 34 EMS has the Diana T06 trigger installed. Together with the match trigger Rekord from Weihrauch, it is in my opinion the best trigger among high-quality amateur air rifles. The T06 trigger is already well-adjusted ex works, but the pre-travel, the trigger pull, and the trigger weight can be adjusted to your own preferences. I just shortened the pre-travel a little and then shot with it.
The recoil, which I would rate as medium, is predictable. You know exactly what's coming when you pull the trigger. It's a little difficult for me to put into words what exactly I mean. I frequently have rifles where I know the trigger pull, but then end up wondering why the recoil sent the shot to a different point than I assumed.
Made in Germany
Like all other air rifles of the Diana Performance Line, Diana 34 EMS is "Made in Germany". The workmanship has left nothing to be desired. The cocking process is smooth and comfortable.
If I could wish for anything right now, I would wish for a walnut stock option. I like dark wood stocks and I like to take care of my rifle. Maybe Diana will comply with my wish if I express it everywhere often enough. 😉
My conclusion of Diana 34 EMS
My dream combination is a wooden stock, open metal sights, .177 (4.5 mm) caliber. This is how I would assemble my Diana 34 EMS. I bet for some of you, the option you chose would be different.
The rifle shoots really well. To me, it is a new player in the high-end amateur air rifle class.
Of course, if you have competition ambitions, you'll have to look for another air rifle. You can find my detailed overview here. For all amateur shooters, however, Diana 34 EMS is a real option. The very slim design also distinguishes the air rifle from other rifles in this price range.
If you like that, you can buy this rifle without hesitation.
Thank you again very much for your interest and time.
Stay safe. 😉
Best wishes!
Yours, Andi
Interesting link:
Do you already know my international YouTube channel? HERE you will find videos of more powerful air rifles in English.