The Diana Chaser air pistol is available for less than 100 euros. Very often, I test high-priced air pistols and air rifles. Now I wanted to know if Chaser can impress me considering the low price. If so, this would be a real recommendation for any plinker and newcomer to the air pistol shooting hobby. I'm excited.
Specifications of Diana Chaser
Chaser was first presented at the Shot Show in 2018. It is part of the low-priced Diana Action Line which is produced in China.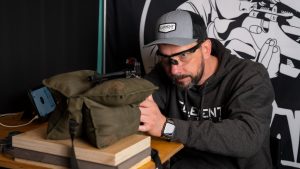 Diana Chaser is a CO2 air pistol that is operated with a 12-gram CO2 cartridge. It can also be quickly and easily converted into a light air rifle by means of an optionally available shoulder stock and long barrel. The shoulder stock can be attached to the bottom of the handle with a screw. Once you have removed the cap at the bottom, a replacement CO2 cartridge can be transported in the hollow grip. I think that's a very cool feature.
There is a small hole in the CO2 chamber. Through this you can immediately see if there is still a CO2 cartridge in your Chaser. This hole is also useful when there are jammed cartridges, as it makes it easier to move them out of the gun. The CO2 chamber itself can be opened by hand. If it's too tight, you can unscrew a pin in the lid of the chamber to create a lever. That's a great idea.
The plastic grip is quite small. With large hands, you have to hold the gun tightly so that it doesn't slip from your grip. It could have been a bit bigger.
However, cocking is easy to do. The bolt action lever is big and fits great in the hand. Many other air pistols and air rifles aren't as good in this regard.
Included is a single shot adapter that is held magnetically in the gun. However, you have the option of using an optionally available drum magazine from Diana Bandit or Diana Stormrider.
Shooting Diana Chaser
I must confess, I was looking forward to the shooting test. How will the low-priced air pistol perform? How precise is it and is it fun to shoot?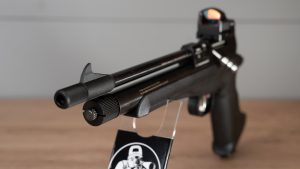 First of all, you can decide whether you want to use the open sights to shoot. It consists of a fixed front sight and a rear sight that can be adjusted laterally and in height. If you prefer a Red Dot or reflex sight, it can be attached to the 11 mm prism rail.
A manual safety helps to prevent accidental firing. It can be activated with the pin next to the trigger blade. If you have deactivated it, you can fire as many shots as you like without having to press it again.
The trigger itself is the now well-known DIT – Diana Improved Trigger. The 2-stage trigger has a clear trigger pull. Personally, I'm extremely surprised how well the pistol shoots with this trigger. Diana has created a great and affordable alternative to its own Diana T06 trigger.
After 50-60 shots with a 12-gram CO2 cartridge, it's over. Then it's time to put in a new one.
If you want to shoot Diana Chaser in an environment where you can't be too loud, you can unscrew the cap at the barrel end. There is a thread to which you can attach a silencer. However, it's not an otherwise very often used 1/2" UNF thread.
It's a M10x1 barrel thread like on Diana Bandit and Diana Stormrider. You'll probably find an adapter online for about 30€.
My conclusion of Diana Chaser
Good precision, 50-60 shots per cartridge, low price. These three aspects aren't the only reasons to recommend Diana Chaser to beginners. Also, the possibility of attaching accessories such as a silencer, shoulder stock or rifle barrel give the shooter a lot of freedom to have fun with the pistol.
The grp is a bit small, some will be happy, others not so much.
Nevertheless, I definitely recommend this pistol for beginners and plinkers!
What was your first air pistol or air rifle?
Do you like Diana Chaser?
Thank you for visiting my site and for your time!
Best wishes!
Yours, Andi
Interesting link:
You want to compare Diana Chaser with other air pistols? Let's go then!
Do you already know my international YouTube channel? HERE you will find videos of more powerful air rifles in English.