I was able to hold a Steyr ProX in my hands for the first time at IWA 2019. Since that day, I was really looking forward to the test. Today I'll tell if it was worth waiting for it. I was loaned the Steyr ProX from Steyr Sport for a review.
Technical specifications of Steyr ProX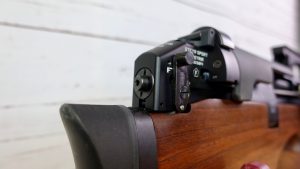 Just like Steyr Hunting 5 Automatik, Steyr ProX is also a semi-automatic compressed air rifle. The bullpup system is set way back. This means that a long barrel can be installed despite the compact design. The model I have is for 4.5 mm diameter pellets and has a power of 7.5 joules. The energy can be fine-tuned to the respective pellet type at the external V0 screw. The 10-round drum magazine can be inserted into the rifle after opening the magazine cover. After pulling the bolt action lever, the magazine is wound by turning it.
It has an integrated spring that automatically jumps to the next position after a shot is fired. Thus, the 10 pellets can be fired semi-automatically at high speed.
The Steyr Pro X system operates with a maximum cartridge pressure of 200 bar. The integrated regulator ensures a constant energy. With a filled cartridge, more than 200 shots can be fired until you have to go backt to your compressed air tank or pump again.
A pre-tilted Weaver rail from Steyr Sport can be purchased to go with the 11 mm prism rail. A telescopic sight can be attached to it by means of a Weaver mount.
The stock of Steyr ProX
The thumbhole stock of Steyr ProX is made out of high-quality nut wood. There is a nice stippling at the grip. The compact stock fits perfectly in the hand. The rubberized butt plate is adjustable in height.
How precise is the air rifle?
As you can see in the shooting test in my video, ProX has excellent precision even with a fast-firing sequence. The 10 pellets are fired from the drum magazine within a few seconds.
My conclusion of Steyr ProX
It was definitely worth the wait. Rarely have I had so much fun with an air rifle during my test. I didn't even count how many times I refilled the magazine. My bullet trap was filled to the brim with flattened pellets at the end of the test. ProX leaves almost nothing to be desired. The only thing I really miss is a single shot adapter. I could see this rifle doing very well at Hunter Field Target in particular. Compact dimensions and a handy weight ensure excellent handling.
Those who want to have maximum fun and have the necessary spare money will not get around ProX.
What do you think about ProX? Write it down for me in the comments!
Thank you for reading! Have fun with my video!
See you next time!
Best wishes!
Yours, Andi
Interesting links:
HERE you'll find the manufacture's website.
Steyr ProX is also available in MY SHOP.
Do you already know my international YouTube channel? HERE you will find videos of more powerful air rifles in English.