What is it like to shoot with a pistol carbine? I'll test them for you today and also show you two models.
Weihrauch HW45 Target as a pistol carbine
The first pistol I would like to introduce to you is probably the most legendary air pistol in the amateur range.
Weihrauch HW45, presented here as Target version. HW45 Target differs from the standard HW45 by having a milled Picatinny rail to which a reflex sight can be attached without an adapter. This is a big advantage because HW45 has a rather unusual 14 mm prism rail for which there are only a few and expensive adapters.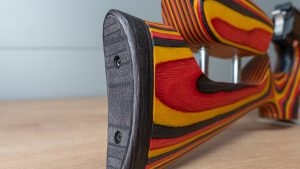 Of course, HW45 can be shot without a scope. However, I think using a reflex sight makes it even more comfortable and easier to hit the targets.
Due to the carbine stock, however, it is possible to get the otherwise rather petulant pistol under control.
Loading the pellets into Weihrauch HW45 is easy to do. When you unlatch the pistol to cock it, you can tuck it nicely under your armpit thanks to the carbine stock. This gives you good leverage. It can then be closed without any effort.
The safety, which you have to deactivate before each shot, is also accessed easily. You can see the precision of Weihrauch HW45 pistol carbine then in my video.
Diana LP8 as a pistol carbine
The biggest competition for Weihrauch HW45 is Diana LP8. I already tested it a few months ago. There you could see that LP8 comes close to 7.5 joules.
The air pistol is structurally slightly larger than Weihrauch HW45. However, with a pistol carbine stock, the handling is perfect from my point of view. It feels like Diana LP8 was designed for exactly that.
The precision I could achieve in the test was excellent. Of course, the mounted 4-12×40 Hawke Airmax Compact scope also helped. This makes it much easier to aim at the center of the target than if you use a reflex sight or the open sight. If you need advice on rifle scopes, just get in touch with me via the contact form.
Loading the air pistol is extremely simple. The barrel can be comfortably gripped and opened thanks to the muzzle brake. Then you just have to push the pellet into the barrel.
Of course, this gets a little more difficult if you put a scope over the barrel like I did. This requires a bit of skill. After practicing a few times, though, this is no longer a problem.
Shooting with a pistol carbine – My conclusion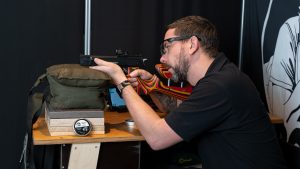 You can turn your air pistol into a small rifle easily and quickly.
You only have two screws that you have to loosen to mount the gun stock. You can switch between pistol and pistol carbine that quickly.
Even with the stock attached, the pistol remains nice and compact and easy to carry. Higher precision is thus very easy to achieve. You have the option of buying the carbine stock either with an adjustable cheek piece, or if you want to continue shooting via the open sights you can save yourself a few more bucks and opt for a fixed cheek piece.
Personally, I would always advise the adjustment option. After all, you never know if you'll ever want to mount a scope.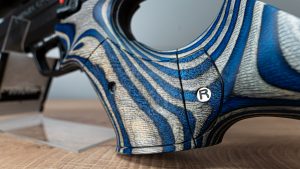 The pistol carbine stocks are also available from Rink Formgriffe for other air pistols and pistol models. If you are interested you can have a look at his website or contact him directly.
I think it's a great change and the compact and lightweight setup in particular is a lot of fun. You can put the pistol carbines in a backpack and go to the range without having to carry much.
Feel free to check out my older review on this topic. There you will also find a video in which we had a lot of fun.
Thank you again for visiting and have a great week!
Best wishes!
Yours, Andi
Interesting links:
HERE you can find the website of Thomas Rink.
Do you already know my international YouTube channel? HERE you will find videos of more powerful air rifles in English.